National Assembly of the Republic of Serbia / Activities / Activity details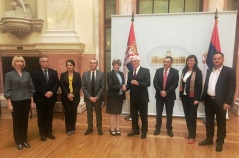 31 October 2017 The members of the European Integration Committee and the delegation of the Italian Senate's Foreign Affairs Committee
Tuesday, 31 October 2017
European Integration Committee Meets with Italian Senate Delegation
The Deputy Chairperson and members of the European Integration Committee met today at the National Assembly House with a delegation of the Italian Senate's Foreign Affairs Committee to discuss the state-of-play of Serbia's Euro-integration process.
---
Elvira Kovacs, Deputy Chairperson of the European Integration Committee, informed the members of the Italian Senate delegation that EU accession is Serbia's strategic goal. Serbia is administratively and technically fully ready for it and has reached a political consensus on the matter. She said that since the end of 2015 to date Serbia has opened ten negotiation chapters, two of which have been temporarily closed. By expediting the negotiation process the European Union would send a message to the people of Serbia that EU accession is a certainty. She went on to thank Italy for all the support it has offered Serbia in the European integration process despite the crises the European Union is faced with.
Paolo Corsini, First Vice-Chairman of the Italian Senate's Foreign Relations Committee who was heading the delegation, said that Italy would strive to speed up the accession process of the entire Western Balkans. Delegation member Vito Petrocelli said that Serbia's EU accession would, among other things, also help foster better relations between the EU and Russia.
Italian Ambassador to Serbia Giuzzeppe Manzo said that Italy endorses the initiative for an internal dialogue on Kosovo-Metohija, which would include a number of participants and with it the possibility to hear different opinions.
Finally, the Committee Deputy Chairperson thanked Italy for its support of Serbia's EU path saying she was sure that this meeting would help advance the two countries' interparliamentary cooperation.


---
---
monday, 17 january
9.00 - the members of the PFG with Russia meet with Russian senators (National Assembly House, 13 Nikola Pasic Square, hall 2)