National Assembly of the Republic of Serbia / Activities / Activity details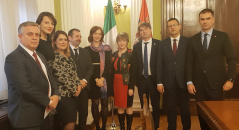 29 November 2018 Participants of the meeting
Thursday, 29 November 2018
European Integration Committee Meets with Italian Parliamentary Delegation
The Deputy Chairperson and members of the European Integration Committee met with a delegation of the Committee on Foreign and European Community Affairs of the Italian Chamber of Deputies at the National Assembly House today to discuss advancing parliamentary cooperation, European integration and the current political situation in Serbia.
---
Greeting the Italian Parliamentary delegation, European Integration Committee Deputy Chairperson Elvira Kovacs stressed that EU accession is Serbia's strategic commitment and added that two thirds of the National Assembly endorse Serbia's European integration.
Kovacs went on to say that the latest developments in Kosovo-Metohija are bad not just for the Serbia's EU accession process but for the entire Western Balkan region. Serbia is ready to resolve the outstanding issues peacefully through dialogue, said Kovacs emphasizing that it is vital to abide by the agreements reached.
She briefed the guests on the work of the European Integration Committee, stressing that Serbia had launched the accession talks in 2014, with the first two chapters being opened in December 2015. So far, Serbia has opened 14 negotiation chapters, two of which are temporarily closed.

According to the latest polls, EU accession enjoys 52% and the reforms 70% public support.

The President of the Committee on Foreign and European Community Affairs of the Italian Chamber of Deputies Marta Grande said that Serbia is the key to stability in the Western Balkans. Speaking of the political situation in Serbia, Grande opined that with it peaceful and composed reaction to the decision of the Provisional Institutions of Self-Government in Pristina to levy 100% customs taxes on the import of Serbian products, Serbia demonstrated its national pride and what political level it stands at.
Saying she hoped for an advancement of interparliamentary cooperation, Grande went on to inform her hosts that the Italian Parliament had recently set up a Parliamentary Friendship Group with Serbia. The Italian delegation also praised Serbia's reforms stressing that Italy is ready to continue providing support to Serbia on the path to the EU.
Committee members and deputy members Ivana Nikolic, Dr Muamer Bacevac, Dusica Stojkovic, Gordana Comic, Zvonimir Djokic and Zarko Micin briefed the Italian delegation on Serbia's foreign policy situation, the outstanding issues in the dialogue with Pristina and the reforms Serbia is conducting in the effort to reach European standards.


---
---
| M | T | W | T | F | S | S |
| --- | --- | --- | --- | --- | --- | --- |
| 27 | 28 | 29 | 30 | 31 | 1 | 2 |
| 3 | 4 | 5 | 6 | 7 | 8 | 9 |
| 10 | 11 | 12 | 13 | 14 | 15 | 16 |
| 17 | 18 | 19 | 20 | 21 | 22 | 23 |
| 24 | 25 | 26 | 27 | 28 | 29 | 30 |
| 31 | 1 | 2 | 3 | 4 | 5 | 6 |
thursday, 13 august
No announcements for selected date