National Assembly of the Republic of Serbia / Activities / Activity details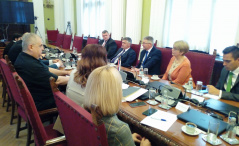 10 April 2019 The members of the European Integration Committee in meeting with the delegation of the Hungarian Parliamentary Friendship Group with Serbia
Wednesday, 10 April 2019
European Integration Committee Meets with Hungarian PFG with Serbia
The Chairman and members of the European Integration Committee met today with a delegation of the Hungarian Parliamentary Friendship Group with Serbia to discuss Serbia's progress to the European Union and how the two countries' friendly relations could help speed it up.
---
Committee Chairman Nenad Canak said that EU accession is Serbia's strategic foreign policy goal, one supported by the ruling majority and the opposition in the parliament as well as more than half the citizens. "That is why we truly appreciate Hungary emphasizing the importance of the EU accession of the Western Balkans", said Canak and went on to brief the Hungarian delegation on the course of Serbia's EU talks and the problems it had to resolve in the process.
Committee member Dusica Stojkovic said she was very pleased by the excellent cooperation between FIDES and SNS political parties which had expanded to include broad political cooperation. She said the people expect to see tangible results of the two countries' cooperation such as the opening of border crossings between Hungary and Serbia in 2019 and the construction of Belgrade-Budapest railroad.
The Head of the PFG with Serbia Laszlo Nagy said that Serbia has Hungary's full support on the path to EU accession and Hungary is ready to share all of its experiences with Serbia, both positive and of the obstacles it came up against in the process, to be ready for them and overcome them more easily.

"Serbia is in a good place because it is led by a coalition aware of national values. It is vital to preserve your national resources", said Nagy. He also told the MPs that they can trust Hungary and its partners to exchange relevant experiences and expand cooperation to other areas, not just the political, with a special focus on economic cooperation.
Committee member Dragan Sormaz appealed to the Hungarian MPs to step up the efforts to speed-up the EU accession of the Western Balkans after the European parliamentary election in May.
The meeting was also attended by Gordana Comic, Vera Jovanovic, Vesna Markovic and Zvonimir Djokic.


---
---
wednesday, 19 january
10.00 - public hearing on Artificial intelligence and man in the new digital era, organised by the Committee on Education, Science, Technological Development and the Information Society (National Assembly House, 13 Nikola Pasic Square, Small Hall)