National Assembly of the Republic of Serbia / Activities / Activity details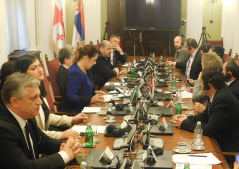 5 December 2018 The members of the European Integration Committee in meeting with the Georgian parliamentary delegation
Wednesday, 5 December 2018
European Integration Committee Meets with Georgian Parliamentary Delegation
The Chairperson of the Georgian Parliament's Committee on European Integration Tamar Khulordava said she considers the meeting with the members of the National Assembly very important because Serbia is a best practice example for the Euro-integration process through which Georgia can learn about the challenges awaiting it on the path to Europe.
---
She said that as much as 80% of the citizens of Georgia support the idea of EU accession and the country is determined to conduct all the necessary reforms and preparations for the process. Khulordava also mentioned the country's challenging situation in Abkhazia and South Ossetia thanking Serbia for its support of Georgia's territorial integrity.
Committee Member Dusica Stojkovic briefed the Georgian parliamentary delegation on the scope of the European Integration Committee and the course of the Euro-integration process, with a special focus on the chapters closed so far, stressing that Serbia expects the opening of two new chapters before the end of the year.
She thanked Georgia for its principled stance of non-recognition of the unilaterally declared independence of Kosovo-Metohija and went on to speak about the new problems arising from Pristina's decision to impose a 100% customs tax on Serbian products.
Committee member Gordana Comic told the Georgian colleagues to, whatever the current status of the Euro-integration process might be, make their own action plan and approach it from the status of candidate so as to be ready for that moment.
Committee member Dragan Sormaz said that Serbia and Georgia should join forces in the fight for their citizens' interests, especially in the communication with Brussels.
Stojkovic concluded the meeting saying that solidarity on the European level keeps being re-examined, demonstrated and proved through parliamentary cooperation and the meeting of the Serbian and Georgian parliamentary delegations is proof of solidarity and good cooperation between the two countries.

Zvonimir Djokic, Olivera Pesic and Vesna Jovanovic also took part in the meeting.


---
---
friday, 24 may
9.00 - National Assembly Deputy Speaker Prof. Dr Vladimir Marinkovic and Head of PFG with Germany Vesna Markovic meet with representatives of Hans-Bockler Foundation (National Assembly House, 13 Nikola Pasic Square, hall 2)

9.00 - sitting of the Committee on the Judiciary, Public Administration and Local Self-Government (National Assembly House, 13 Nikola Pasic Square, hall 4)

9.30 - sitting of the Committee on Constitutional and Legislative Issues (National Assembly House, 13 Nikola Pasic Square, hall 4)