National Assembly of the Republic of Serbia / Activities / Activity details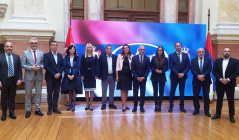 27 September 2023 The members of the European Integration Committee and the delegation of the House of Representatives of the Republic of Cyprus
Wednesday, 27 September 2023
European Integration Committee Meets with Cypriot House of Representatives Delegation
The Deputy Chairperson of the European Integration Committee Dubravka Filipovski and Committee members Goran Milic, Dunja Simonovic Bratic, Draginja Vlk, Ana Miljanic and Milan Radin met today at the National Assembly with the delegation of the House of Representatives of the Republic of Cyprus, headed by Harris Georgiades, the Chairman of the Committee on Foreign and European Affairs and Head of the Cyprus-Serbia Parliamentary Friendship Group.
---
Speaking about the traditional friendship between the two countries, Dubravka Filipovski emphasised the importance of mutual support in international forums and organisations. She thanked Cyprus for its principled stance and support for Serbia's sovereignty and territorial integrity and opposition to the requests for membership of so-called Kosovo in international organisations, such as the Council of Europe.
The support Cyprus provides to Serbia on the path to the European Union is also of great importance, Filipovski stressed, noting that EU membership is Serbia's foreign policy priority, but the process has been going on for too long, 20 years already, which is reflected in the decline of our citizens' support for EU membership. The enlargement policy has never occupied a significant place on the EU agenda, she said adding that in the current geopolitical circumstances, Ukraine, Georgia and Moldova are being put in focus when it comes to enlargement.
Serbia's European integration is directly linked to the dialogue between Belgrade and Pristina, said Dubravka Filipovski, pointing out that Belgrade accepts the implementation of the Brussels Agreement, while on the other hand, Pristina rejects any dialogue. "The international community is turning a deaf ear to the appeals of President Aleksandar Vucic that the situation in Kosovo-Metohija is extremely difficult and that Serbs are experiencing daily terror," emphasised Filipovski. She expressed regret for the recent conflicts in Kosovo-Metohija and the loss of life, particularly her disappointment at the lack of reaction by KFOR and EULEX, whose main task is to preserve peace.
Harris Georgiades agreed that Serbia and Cyprus are bound by strong historical ties and friendship between their two peoples. He stressed that the support of Cyprus will remain unchanged and equally strong, adding that this is not only a reflection of friendship, but a matter of respect for international law and the values which the family of European nations should be based on. He agreed that our two countries' mutual support in international forums and organisations is extremely important and called for the continuation of this successful cooperation.
---
---
| M | T | W | T | F | S | S |
| --- | --- | --- | --- | --- | --- | --- |
| 27 | 28 | 29 | 30 | 1 | 2 | 3 |
| 4 | 5 | 6 | 7 | 8 | 9 | 10 |
| 11 | 12 | 13 | 14 | 15 | 16 | 17 |
| 18 | 19 | 20 | 21 | 22 | 23 | 24 |
| 25 | 26 | 27 | 28 | 29 | 30 | 31 |
saturday, 2 december
No announcements for selected date