National Assembly of the Republic of Serbia / Activities / Activity details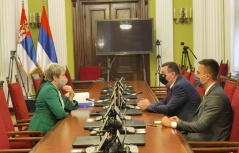 9 December 2020 The Chairperson of the European Integration Committee Elvira Kovacs in meeting with the Hungarian Ambassador to Serbia H.E. Attila Pinter
Wednesday, 9 December 2020
European Integration Committee Chairperson Meets with Hungarian Ambassador to Serbia
The Chairperson of the European Integration Committee Elvira Kovacs met today with the Hungarian Ambassador to Serbia H.E. Attila Pinter to discuss furthering parliamentary cooperation.
---
At the beginning of the meeting, the Ambassador congratulated the Chairperson on her election for Deputy Speaker of the National Assembly, adding how pleased he was that a member of the Hungarian minority holds the position of Deputy Speaker.
Elvira Kovacs briefed the ambassador about the scope of work of the Committee she heads and went on to inform him about the 49-member Parliamentary Friendship Group with Hungary formed in the National Assembly, which provides new opportunities to intensify the cooperation between the two parliaments.
In the ensuing conversation, the officials concluded that the relations between Hungary and Serbia are at a high level, and added that the current situation viz. the Corona virus crisis, has not prevented the cooperation from continuing with its upward trend.
The Ambassador stressed that Hungary would continue to provide political and expert support to Serbia on its path to the European Union, highlighting Serbia's good results in the field of economy, fight against the Corona pandemic and successfully conducted parliamentary elections.
Elvira Kovacs took the opportunity to thank the ambassador for Hungary's support of Serbia's progress towards the EU, as well as for the help Budapest has been sending from the beginning of the pandemic, in the most difficult moments.
At the end of the meeting, the officials concluded that the overall relations between the two countries are at a high level and that there is room for further improvement of interparliamentary cooperation through reciprocal visits and exchange of experiences between parliamentarians.
---
---
friday, 28 january
13.00 - meeting of the Inter-Party Dialogue Control Body (National Assembly House, 13 Nikola Pasic Square, hall 1)

17.00 - National Assembly Speaker Ivica Dacic meets with Inter-Party Dialogue co-facilitators (National Assembly House, 13 Nikola Pasic Square, hall 1)