National Assembly of the Republic of Serbia / Activities / Activity details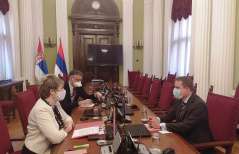 9 April 2021 The Chairperson of the European Integration Committee in meeting with the Head of the Political Section of the EU Delegation to Serbia
Friday, 9 April 2021
European Integration Committee Chairperson Meets with Head of EU Delegation to Serbia Political Section
The Chairperson of the European Integration Committee Elvira Kovacs met today in the National Assembly with the Head of the Political Section of the EU Delegation to Serbia Dirk Lorenz to discuss the National Assembly and Committee's activities in preparation for the European Commission's Annual Progress Report on Serbia for 2020.
---
Elvira Kovacs pointed out that, since the constitution of the new legislature in October last year, the National Assembly has been very active, both in plenary sessions and other activities, operating in accordance with anti-coronavirus measures.
She went on to say that National Assembly Collegium has been having regular meetings to discuss the Parliament's work in the following period, allowing to set up a detailed work plan. As a result, the new legislature considered only two draft laws under urgent procedure, said Elvira Kovacs.
Speaking about the relationship with the Serbian Government and the competent Ministry for European Integration, Kovacs said that the European Integration Committee enjoys constant communication and good cooperation with Minister Jadranka Joksimovic. The Ministry is obliged to submit quarterly activity reports to the Committee, as well as reports on the negotiations on the accession of the Republic of Serbia to the European Union during the six-month presidency of the member states. Elvira Kovacs also pointed out that the Committee considers the European Commission's annual progress report on Serbia, adding that the 2019 Report was considered for the first time at a National Assembly session in December of last year.
The Parliament can also exercise its control role by requesting information and explanations from the Government and posing parliamentary questions to Government representatives on the last Thursday of the month, in a special segment of a National Assembly session, said the European Integration Committee Chairperson, adding that she herself used that option last month by posing a question about the new methodology for EU accession negotiations.
The Head of the Political Section of the EU Delegation to Serbia Dirk Lorenz said that he expected this year would be better and more successful, both in terms of combating the coronavirus and Serbia's progress in the European integration process. In the course of the meeting with the Chairperson of the European Integration Committee, he asked about the relationship and modalities of cooperation between the Committee and the civil sector, where Elvira Kovacs especially emphasised the cooperation and coordination of work with the National Convention on the EU.
The officials also talked about the prospects of starting an inter-party dialogue through the EP and the upcoming constitutional amendment.
---
---
friday, 28 january
13.00 - meeting of the Inter-Party Dialogue Control Body (National Assembly House, 13 Nikola Pasic Square, hall 1)

17.00 - National Assembly Speaker Ivica Dacic meets with Inter-Party Dialogue co-facilitators (National Assembly House, 13 Nikola Pasic Square, hall 1)