National Assembly of the Republic of Serbia / Activities / Activity details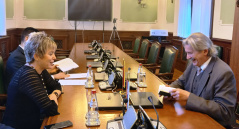 17 February 2023 The Chairperson of the European Integration Committee in meeting with the German Deputy Ambassador to Serbia
Friday, 17 February 2023
European Integration Committee Chairperson Meets with German Deputy Ambassador to Serbia
The Chairperson of the European Integration Committee Elvira Kovacs met today with the German Deputy Ambassador to Serbia Carsten Meyer–Wiefhausen.
---
The officials discussed the work of the MPs both at the plenary sessions and working body meetings, with a special focus on the work of the European Integration Committee. Ms. Kovacs informed the German Deputy Ambassador of the Committee's competencies and mode of operation, particularly the parliament's control over the executive's work, as well as cooperation with civil society organisations making up the European Convention. She added that the National Assembly committees have planned to have joint sessions focusing on Serbia's European integration process, organise public hearings, as well as work in the filed in the form of dialogue between the MPs and the citizens on the importance and benefits of Serbia's EU membership.
Kovacs and Meyer–Wiefhausen discussed the improvement of cooperation between Serbia and Germany, especially the European Integration Committee and the Bundestag's Committee on European Union Affairs. Meyer–Wiefhausen opined that Serbia has made progress in the fields of the rule of law and media freedom, while Kovacs stressed that she hoped the improvement would be recognised in Brussels.
Kovacs also highlighted the importance of advancing cooperation between Serbia and Germany within interparliamentary organisations, especially the Parliamentary Assembly of the Council of Europe (PACE), hoping that Serbia would, after a long time, receive the monitoring committee's report, bearing in mind that one of the PACE Rapporteurs for Serbia comes from the German Bundestag.
The meeting also touched on the situation in Ukraine and the continuation of the dialogue between Belgrade and Pristina.
---
---
| M | T | W | T | F | S | S |
| --- | --- | --- | --- | --- | --- | --- |
| 27 | 28 | 29 | 30 | 1 | 2 | 3 |
| 4 | 5 | 6 | 7 | 8 | 9 | 10 |
| 11 | 12 | 13 | 14 | 15 | 16 | 17 |
| 18 | 19 | 20 | 21 | 22 | 23 | 24 |
| 25 | 26 | 27 | 28 | 29 | 30 | 31 |
saturday, 2 december
No announcements for selected date