National Assembly of the Republic of Serbia / Activities / Activity details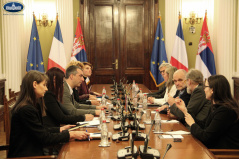 15 March 2023 The National Assembly Speaker in meeting with the members of the National Assembly of the Republic of France
Wednesday, 15 March 2023
Dr Vladimir Orlic Meets with Members of French National Assembly
The Speaker of the National Assembly of the Republic of Serbia Dr Vladimir Orlic met today with Frédéric Petit and Marine Hamelet, members of the National Assembly of the Republic of France.
---
As he assessed, the bilateral relations between the two countries are traditionally close and on a constant rise, primarily thanks to intensive political dialogue at all levels. He pointed to the importance of the historic, first official visit of the President of the Senate of the Republic of France Gérard Larcher to Belgrade, in November last year, deeming it a strong incentive for the additional intensification of parliamentary cooperation.
The officials emphasised the importance of the many capital infrastructure projects the Republic of Serbia is implementing with French partners, noting that the economic cooperation between the two countries has had record results year after year.
They also discussed Serbia's European path with Dr Orlic pointing to the progress achieved in practically all areas concerning the rule of law, as well as the adoption of a new set of judiciary laws, which complete the reform begun with last year's Constitutional amendment. "Chapter 35, which refers to the dialogue between Belgrade and Pristina, is a special aspect of our European path. We are aware that dialogue is the only way to preserve peace and stability for all who live here. That is why we are unequivocally committed to dialogue, but with the fulfilment of these basic preconditions - finally, after a decade of waiting, establishing the Community of Serb Municipalities, ensuring the safety of Serbs in Kosovo-Metohija and the end to the most brutal daily violation of the basic human rights of our people by Pristina and Albin Kurti personally," said Dr Orlic, adding that Belgrade continues to pursue the state policy of peace, stability, economic and social development. "That policy is headed by President Aleksandar Vucic, who had received the mandate and convincing support for it from the people, and the National Assembly of the Republic of Serbia and the Government of Serbia stand united behind it. United and gathered around said state policy, we have managed to achieve historic results in the economy, infrastructure and other areas during the previous years," concluded Dr Orlic.
The members of the National Assembly of the Republic of France said that, when it comes to the importance of the formation of the Community of Serb Municipalities and the preservation of the security of Serbs in Kosovo-Metohija, there is an unequivocal consensus in the European Union today. They also confirmed their support for the European integration of Serbia and the entire Western Balkans. "The Balkans are the future of Europe and Europe is the future of the Balkans", said the French MPs, who took the opportunity to congratulate the National Assembly Speaker on the work completed to pave the way for the ambitious reform of the judiciary in Serbia, the implementation of which remains essential.
---
Photo gallery
---
---
thursday, 23 march
10.00 - press conference of the MPs of the GREEN – LEFT CLUB, DON'T LET BELGRADE D(R)OWN, WE HAVE TO Parliamentary Group (National Assembly House, 13 Nikola Pasic Square, Central Hall)

11.00 - sitting of the Defence and Internal Affairs Committee (National Assembly House, 13 Nikola Pasic Square, hall 2)

12.00 - the Chairman of the Committee on Finance, State Budget and Control of Public Spending meets with representatives of the World Bank (National Assembly House, 13 Nikola Pasic Square, hall 2)