National Assembly of the Republic of Serbia / Activities / Activity details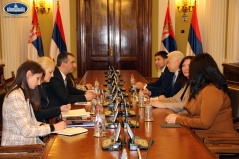 28 March 2023 The National Assembly Speaker in meeting with the Kazakh Ambassador to Serbia
Tuesday, 28 March 2023
Dr Vladimir Orlic Meets with Kazakh Ambassador to Serbia
"Relations between Serbia and Kazakhstan are traditionally good and friendly, and in that spirit, I am sure, we will continue to develop and strengthen them in the future", said the Speaker of the National Assembly of the Republic of Serbia Dr Vladimir Orlic in his meeting with the Ambassador of the Republic of Kazakhstan Madi Atamkulov.
---
The Speaker of the National Assembly of the Republic of Serbia thanked Kazakhstan for supporting the sovereignty and territorial integrity of the Republic of Serbia, that is, for its principled position of non-recognition of so-called "Kosovo". He stressed that Belgrade remains committed to dialogue with Pristina, following the principles of preserving peace and stability for all who live in this part of Europe. He added that today, the representatives of the international community openly say that only one party - Belgrade, that is, the President of the Republic Aleksandar Vucic - shows a responsible attitude in the dialogue.
Ambassador Atamkulov said that Kazakhstan considers Serbia an important political and economic partner and that the two countries have no open issues. He also said that Kazakhstan would continue to support Serbia, its territorial integrity, as well as its interests in international organisations.
The officials also touched on the topic of parliamentary ties at all levels and their further improvement after the recent parliamentary elections for the Lower House of the Kazakh Parliament. They expressed determination to strengthen cooperation in the field of economy, firmly based on the Free Trade Agreement signed with the Eurasian Economic Union in 2019. They also confirmed their willingness to strengthen cooperation in many other areas of mutual interest, primarily agriculture, food and pharmaceutical industry.
---
Photo gallery
---
---
sunday, 11 june
No announcements for selected date