National Assembly of the Republic of Serbia / Activities / Activity details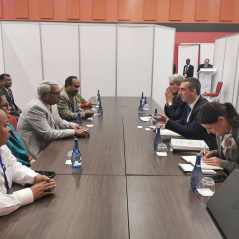 14 October 2022 National Assembly Speaker Dr Vladimir Orlic and Bangladeshi Parliament Deputy Speaker Shamsul Haque Tuku
Friday, 14 October 2022
Dr Orlic with Bangladeshi Parliament Deputy Speaker on IPU Margins
The Speaker of the National Assembly of the Republic of Serbia Dr Vladimir Orlic met today in Kigali with Bangladeshi Parliament Deputy Speaker Shamsul Haque Tuku.
---
At the very beginning of the meeting the officials exchanged congratulations on assuming office in the two parliaments, stressing how happy they are to be meeting on the margins of the 145th Assembly of the Inter-Parliamentary Union.
Dr Orlic expressed Serbia's readiness to advance overall relations with Bangladesh, primarily in the fields of the economy, education and interparliamentary cooperation through an exchange of high and top level visits. "We are looking forward to strengthening relations in spheres of common interest", concluded the Serbian Assembly Speaker.
---
Photo gallery
---
---
| M | T | W | T | F | S | S |
| --- | --- | --- | --- | --- | --- | --- |
| 27 | 28 | 29 | 30 | 1 | 2 | 3 |
| 4 | 5 | 6 | 7 | 8 | 9 | 10 |
| 11 | 12 | 13 | 14 | 15 | 16 | 17 |
| 18 | 19 | 20 | 21 | 22 | 23 | 24 |
| 25 | 26 | 27 | 28 | 29 | 30 | 31 |
saturday, 2 december
No announcements for selected date