National Assembly of the Republic of Serbia / Activities / Activity details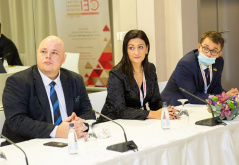 15 October 2021 Dr Dragana Barisic at the meeting of the Parliamentary Dimension of the Central European Initiative Parliamentary Assembly
Friday, 15 October 2021
Dr Dragana Barisic at PD CEI Meeting
The Head of the National Assembly standing delegation to the Parliamentary Dimension of the Central European Initiative Dr Dragana Barisic took part in the meeting of the PD CEI Parliamentary Assembly held in a hybrid format in Herceg Novi, Montenegro, 14 - 15 October 2021.
---
In the course of the session, the participants exchanged views on "Living with COVID -19 - How to ensure a sustainable economic recovery during the pandemic" and adopted a final declaration calling on CEI governments to intensify cooperation to facilitate and encourage trade flows between CEI countries.
In the introductory part, in addition to the Montenegrin Parliament Speaker Aleksa Becic, the participants were also addressed by the Montenegrin Minister of Foreign Affairs Djordje Radulovic, CEI Deputy Secretary General Zoran Jovanovic, State Secretary for Tourism at the Montenegrin Ministry of Economic Development Ivana Djurovic, UNDP Resident Representative for Montenegro Daniela Gasparikova, Executive Director of the IRF of Montenegro Irena Radovic, Deputy Director for Strategies and Policy in the Department for Economics, Policy and Governance in the European Bank for Reconstruction and Development Peter Sanfey and Deputy Head of the EU Delegation to Montenegro Riccardo Serri.
---
Photo gallery
---
---