National Assembly of the Republic of Serbia / Activities / Activity details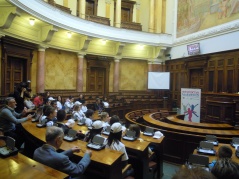 23 December 2013 Diplomas awarded as part of the final programme of the Generation of the Future project
Monday, 23 December 2013
Diplomas Awarded as Part of Generation of the Future Project Final Programme
Today, the National Assembly House hosted an award ceremony as part of the final programme of the Generation of the Future social inclusion project conducted by the Dale Carnegie Training centre (DCT) under the patronage of the National Assembly and in cooperation with the Vojvodjanska banka where the attendees of the programme – children without parental care, received diplomas.
---
Addressing the gathering, National Assembly Deputy Speaker Vesna Kovac emphasised the importance of the programme which had made it possible for the young attendees to gain additional skills and motivation via its trainings and education, which will, along with their formal education, help them become independent and active in creating their own future.
DCT Director Zoran Radovanovic and Vojvodjanska banka Executive Board Director Vojislav Lazarevic spoke of the Generation of the Future social inclusion project, its education and trainings attended by more than 400 children in 2013, and its significance.
The ensuing diploma award ceremony was attended by Minister of Youth and Sport Vanja Udovicic.
Click
here
to watch the diploma award ceremony.
---
---
tuesday, 29 september
No announcements for selected date