National Assembly of the Republic of Serbia / Activities / Activity details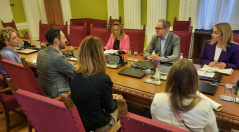 31 October 2022 National Assembly Deputy Speaker Dr Zoran Lutovac in meeting with representatives of the independent community Kreni-Promeni
Monday, 31 October 2022
Deputy Speaker Dr Zoran Lutovac Receives Representatives of Kreni-Promeni
National Assembly Deputy Speaker Dr Zoran Lutovac met with representatives of the independent community Kreni-Promeni (Move-Change) to discuss the people's initiative on banning research and mining of lithium and boron, signed by over 38 thousand citizens, which should be on the agenda of one of the coming National Assembly sessions.
---
Deputy Speaker Lutovac stressed that today's meeting should also show in a symbolic way that the National Assembly is truly the people's (national), that the MPs are representatives of the citizens in the true sense of the word and that we all have something in common, which is the protection of the public interest.
"The MPs and the National Assembly, as an institution, must take into account what its citizens, as well as the activists who represent public interest, think", said Lutovac.
Marina Pavlic, Executive Director of Kreni-Promeni, said that a public appeal was sent to all MPs ten days ago to support the initiative once it is on the National Assembly's agenda and that so far 36 of them have given a positive response. She said she hoped they will succeed in winning at least 126 votes, so that the people's initiative becomes a law and thanked Deputy Speaker Lutovac for taking the time to meet, pointing out that it is an example of good practice of how the institutions should treat citizens.
---
---
friday, 27 january
8.30 - the National Assembly Speaker meets with the EP Rapporteur for Serbia and a member of the EU - Serbia SAPC delegation (National Assembly House, 13 Nikola Pasic Square, hall 1)

9.00 - sitting of the Committee on the Judiciary, Public Administration and Local Self-Government (National Assembly House, 13 Nikola Pasic Square, hall 2)

10.00 - the MPs meet with the EP Rapporteur for Serbia and a member of the EU - Serbia SAPC delegation (National Assembly House, 13 Nikola Pasic Square, Small Hall)

12.15 - press conference of MP Prof. Dr Tamara Milenkovic Kerkovic (National Assembly House, 13 Nikola Pasic Square, Central Hall)