National Assembly of the Republic of Serbia / Activities / Activity details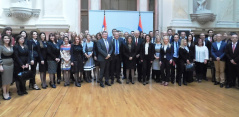 12 April 2018 The deputy public prosecutors and the National Assembly Speaker
Thursday, 12 April 2018
Deputy Public Prosecutors Take Oath of Office
The deputy public prosecutors elected at the First Sitting of the First Regular Session of the National Assembly of the Republic of Serbia in 2018 took the oath of office today, before National Assembly Speaker Maja Gojkovic.
---
Gojkovic said that she is sure they would pursue their duty independently and without bias, in line with the law and the Constitution.

"I believe that in the pursuit of your duties you will follow your conscience and ensure a just treatment of all the citizens according to the law, thus contributing to the reputation of the prosecutorial office in the Republic of Serbia", said Gojkovic

As stipulated by the Law on Public Prosecution, deputy public prosecutors elected to office for the first time must take the oath before the National Assembly Speaker.


---
---
Thursday, 20 September
11.00 - sitting of the Committee on Education, Science, Technological Development and the Information Society (National Assembly House, 13 Nikola Pasic Square, hall 2)

11.00 - sitting of the Environmental Protection Committee (National Assembly House, 13 Nikola Pasic Square, hall 3)

12.00 - sitting of the Culture and Information Committee (National Assembly House, 13 Nikola Pasic Square, hall 4)

12.00 - sitting of the Committee on Labour, Social Issues, Social Inclusion and Poverty Reduction (National Assembly House, 13 Nikola Pasic Square, hall 3)

15.00 - sitting of the Committee on the Economy, Regional Development, Trade, Tourism and Energy (National Assembly House, 13 Nikola Pasic Square, hall 2)

16.15 - sitting of the Committee on Finance, State Budget and Control of Public Spending (National Assembly House, 13 Nikola Pasic Square, hall 2)