National Assembly of the Republic of Serbia / Activities / Activity details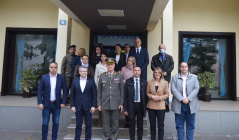 6 October 2021 The members of the Defence and Internal Affairs Committee visit the SAF Guard
Wednesday, 6 October 2021
Defence and Internal Affairs Committee Visits SAF Guard
At the initiative of Chairman Aleksandar Markovic, the members of the Defence and Internal Affairs Committee visited the Serbian Armed Forces Guard, "Dedinje" barracks in Belgrade.
---
In the course of the visit, Major General Milomir Todorovic, Commander of the Guard, spoke to the Committee members about the Guard's history, role, working conditions and modus operandi, as well as its technical equipment, training and method of candidate selection. The Committee members had the opportunity to talk to members of the Guard and observe their readiness and ability to successfully perform each of the tasks entrusted to them.

In the course of the exercise, the Committee members present learned first-hand about the training and motivation of the members of the Guard, and had the opportunity to learn more about the combat techniques, weapons and equipment that the Guard uses in its daily tasks.


---
---
friday, 22 september
9.00 - sitting of the Committee on Finance, State Budget and Control of Public Spending (National Assembly House, 13 Nikola Pasic Square, hall 3)

10.00 - the National Assembly Speaker meets with the Russian Ambassador to Serbia (National Assembly House, 13 Nikola Pasic Square, hall 1)

12.00 - the members of the Foreign Affairs Committee meets with the German Ambassador to Serbia (National Assembly House, 13 Nikola Pasic Square, hall 2)

14.00 - the Chairman of the Foreign Affairs Committee meet with attendees of the autumn school organised by the Belgrade Centre for Security Policy and the German Agency for Civic Education (National Assembly Building, 14 Kralja Milana Street, Blue Salon)