National Assembly of the Republic of Serbia / Activities / Activity details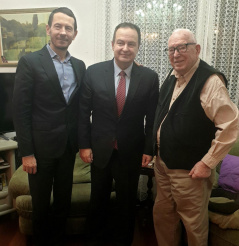 Friday, 8 April 2022
Dacic Sends Telegram of Condolences on Death of Dusan Ckrebic
National Assembly Speaker and President of the Socialist Party of Serbia Ivica Dacic sent condolences to the family and friends of Dusan Ckrebic, former president of the Presidency of Serbia, Speaker of the Serbian Assembly and President of the Central Committee of the League of Communists of Serbia:
---
"It was with deepest sadness that I received the news that Dusan Ckrebic, one of the most prominent personalities in Serbia's political life, a man who participated in the creation of the history of modern Serbia, has left us. He fought against fascism, was decorated for bravery, he built and restored our country, he performed the highest duties in economic and political life. It was by his decision that the construction of the Temple of Saint Sava was approved, which he understood as his human duty to his people, despite all pressures. He committed his life to the ideals of justice and solidarity, with unreserved love for his Serbia, and with his wisdom and justice he inspired us, younger people who continued in his and his great generation's footsteps. I had the great honour and privilege to learn from Dusan Ckrebic and get answers and advice on the most important issues of our state and people in frequent conversations with him. His departure left us without a great witness of an epoch and a man who dedicated his life to the well-being of his country. Allow me to extend my deepest condolences to the family of Dusan Ckrebic, his friends and admirers of his work. "
At the suggestion of the Serbian Orthodox Church, Dusan Crkebic will be buried in the Alley of Distinguished Citizens.
---
---
sunday, 14 august
No announcements for selected date