National Assembly of the Republic of Serbia / Activities / Activity details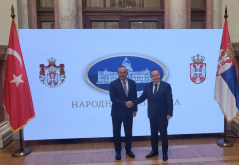 16 June 2022 The National Assembly Speaker and the Minister of Foreign Affairs of the Republic of Turkey
Thursday, 16 June 2022
Dacic Meets with Turkish Foreign Minister Cavusoglu
The Speaker of the National Assembly of the Republic of Serbia Ivica Dacic met today with the Minister of Foreign Affairs of the Republic of Turkey Mevlut Cavusoglu, currently in bilateral visit to Belgrade.
---
The National Assembly Speaker said that the traditionally friendly relations between Serbia and Turkey, especially their bilateral cooperation, are at a very high level and realized in almost all fields, as evidenced by the fact that this is the fourth meeting with Minister Cavusoglu in the past year.
The Assembly Speaker went on to say that the overall international cooperation in the previous period has been good, friendly and continuous, consistently following the general trend of bilateral relations.
Assembly Speaker Dacic said that the good political relations are accompanied by a developed economic cooperation which is especially important in the current situation with its shaky global energy and economic market. Dacic also said that with significant changes to its investment framework the Republic of Serbia had contributed to the creation of a better business environment for companies intending to invest into the country. "We are interested in advancing cooperation in the sphere of attracting Turkish investment by providing long-term support for Turkish investors in the conduct of their business intentions both in the process of realization of investment projects, as well as in the protection of acquired investment rights, in terms of a stable business environment and attractive investment atmosphere," Dacic stressed.
Minister Cavusoglu was very pleased to be meeting with his long-term colleague with whom he had the opportunity to cooperate as Foreign Minister and previously as a member of the Parliamentary Assembly of the Council of Europe. He stressed that the history of our relations obliges us to continue to work together on strengthening overall relations and supporting peace and stability in the region.
Turkish Foreign Minister Cavusoglu went on to say that both nations have greatly benefited from the successful realization of mutual agreements as evidenced by the recent decision to use only personal IDs for travel, which will lend additional impetus to business and tourist visits. The institution of regular flights between Belgrade and Ankara, as well as from Nis and Kraljevo to Istanbul in late 2021, has significantly strengthened the connections between the two states.
The officials also exchanged opinions on the political situation in Europe and the Region.
---
Photo gallery
---
---
wednesday, 29 march
10.00 - the sitting of the European Integration Committee (National Assembly House, 13 Nikola Pasic Square, hall 3)

11.00 - PFG with Israel meets with Israeli Deputy Ambassador to Serbia (National Assembly House, 13 Nikola Pasic Square, hall 2)

13.00 - sitting of the Committee on Administrative, Budgetary, Mandate and Immunity Issues (National Assembly House, 13 Nikola Pasic Square, hall 2)