National Assembly of the Republic of Serbia / Activities / Activity details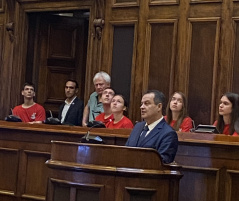 30 June 2022 Speaker of the National Assembly of the Republic of Serbia Ivica Dacic
Thursday, 30 June 2022
Dacic Addresses Mathematical Grammar School Cup Closing Ceremony
The Speaker of the National Assembly of the Republic of Serbia Ivica Dacic spoke at the closing ceremony of the Mathematical Grammar School Cup.
---
THE FOLLOWING IS THE SPEECH OF THE SPEAKER OF THE NATIONAL ASSEMBLY OF THE REPUBLIC OF SERBIA IN ITS ENTIRETY:
Dear competitors,
Honoured professors,
It is a great pleasure to welcome you to the National Assembly and tell you that it is a great honour for me to meet the best young mathematicians from as many as eight European countries. I must immediately admit to you that in my school days I was not one to excel in mathematics, what could I do, I was more interested in social sciences. But since then and to this day, I have had great respect for good mathematicians, physicists and computer scientists, because they deal with fundamental knowledge and sciences, which everything we deal with rests on, even the laws we pass here in parliament.
I especially want to welcome the guests who came to Serbia and Belgrade from other countries to take part in our Mathematical Grammar School Cup - I want this competition to stay in your fond memories, regardless of whether you won an award or not. Your host – the Belgrade Mathematical Grammar School is our country's pride and joy and if this is you first time in Serbia, you could not have got a host with a better reputation or respect.
We, involved in public work, who take care of our talents and their teachers and mentors, know very well that we must support them as much as we can and stand behind them in everything they do. The Mathematical Grammar School has for decades been Serbia's cradle of talents, young scientists and researchers and we know very well that everyone who has successfully passed through it will undoubtedly be among the best in later training and the work they do.
Your knowledge and hard work deserve our maximum support because the number of our future experts, engineers and scientists depends on your success in school and international competitions and exactly in those fields that determine the path in which each of our societies is developing today.
You are the best that all of our countries have today in terms of mathematical sciences and you should be aware of that. Do not allow that knowledge to lull you and stop you from working hard, because you will be able to stay the best and progress even more only if you continue to work as you did before, together with your dedicated teachers.
I hope that the Mathematical Grammar School, Belgrade and Serbia were good hosts and that good memories are all you will take from here. I also hope that you will come again, not only to the math competition but later on when you have become top scientists or engineers, to continue working on joint jobs and projects. Our doors are always open to you and you can always count on our support, your seniors.
Thank you and congratulations on the results you achieved in the Mathematical Grammar School Cup!
---
Photo gallery
---
---
| M | T | W | T | F | S | S |
| --- | --- | --- | --- | --- | --- | --- |
| 27 | 28 | 29 | 30 | 1 | 2 | 3 |
| 4 | 5 | 6 | 7 | 8 | 9 | 10 |
| 11 | 12 | 13 | 14 | 15 | 16 | 17 |
| 18 | 19 | 20 | 21 | 22 | 23 | 24 |
| 25 | 26 | 27 | 28 | 29 | 30 | 31 |
saturday, 2 december
No announcements for selected date