National Assembly of the Republic of Serbia / Activities / Activity details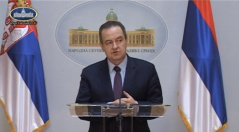 2 February 2021 Speaker of the National Assembly of the Republic of Serbia Ivica Dacic
Tuesday, 2 February 2021
Dacic: Inter-Party Dialogue to Continue in March
The Speaker of the National Assembly of the Republic of Serbia Ivica Dacic announced that he had talked this morning with the Chair of the European Parliament's Committee on Foreign Affairs David McAllister and it was agreed, in principle, to continue the inter-party dialogue in March and fine-tune the "technical" details of form and topic in the next ten days.
---
"I suggested 1 March as the beginning of the dialogue, I do not know if it will suit everyone," Dacic said at a press conference in the Serbian Parliament.
He said that Knut Fleckenstein and Eduard Kukan, who had started the dialogue during the previous Assembly legislature, would join it again as representatives of the European Parliament and be in Belgrade and "work in the field".
"Tanja Fajon and Vladimir Bilcik will remain part of the dialogue because they are in positions that are also connected with Serbia," said Dacic, adding that they, due to the pandemic, would participate "remotely".
---
---
friday, 23 april
13.00 - video meeting of the Chairman of the National Assembly Foreign Affairs Committee and the Chairman of the Italian Chamber of Deputies Foreign Affairs Committee (National Assembly House, 13 Nikola Pasic Square, hall 2)