National Assembly of the Republic of Serbia / Activities / Activity details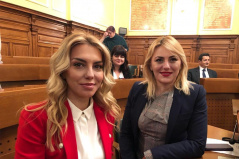 14 May 2019 The Chairperson of the Committee on Spatial Planning, Transport, Infrastructure and Telecommunications Katarina Rakic and Committee member Snezana B. Petrovic in study visit to Slovenia
Wednesday, 15 May 2019
Committee on Spatial Planning, Transport, Infrastructure and Telecommunications Visits Slovenia
The Chairperson of the Committee on Spatial Planning, Transport, Infrastructure and Telecommunications Katarina Rakic and Committee member Snezana B. Petrovic paid a study visit to Ljubljana, Slovenia, on 13 – 14 May 2019.
---
The objective of the study visit was to present best urban mobility and transport planning practices to parliamentary support services and parliamentarians from the Western Balkan region on the example of the city of Ljubljana.
The participants were greeted to the City Hall by the Mayor of Ljubljana Zoran Jankovic, while Matik Sopotnik of the Transportation Department talked to them about the sustainable urban mobility policy and reconstruction of Slovenian Street in Ljubljana.
On day two, at the Urban Planning Institute of the Republic of Slovenia, the guests were given a talk on the national support for urban mobility by Edvard Paulic, member of the National Assembly of the Republic of Slovenia and Chair of the Committee on Infrastructure, Environment and Spatial Planning, and Polona Demsar Mitrovic, head of the Slovenian Ministry of Infrastructure and Spatial Planning sustainable mobility team. Luka Mladenovic of the Urban Planning Institute of the Republic of Slovenia spoke about Slovenia's activities under the auspices of European Mobility Week.
The realization of this activity was supported by the Open Regional Fund for South-East Europe (ORF-EE) conducted on the behalf of the German Federal Ministry for Economic Cooperation and Development by the German Agency for International Cooperation (GIZ).


---
---
monday, 24 february
8.30 - sitting of the Committee on Labour, Social Issues, Social Inclusion and Poverty Reduction (National Assembly House, 13 Nikola Pasic Square, hall 3)

8.30 - sitting of the Committee on the Economy, Regional Development, Trade, Tourism and Energy (National Assembly House, 13 Nikola Pasic Square, hall 2)

9.00 - sitting of the European Integration Committee (National Assembly House, 13 Nikola Pasic Square, library)

9.00 - sitting of the Foreign Affairs Committee (National Assembly House, 13 Nikola Pasic Square, hall 1)

9.00 - sitting of the Committee on Spatial Planning, Transport, Infrastructure and Telecommunications (National Assembly House, 13 Nikola Pasic Square, hall 4)

9.00 - sitting of the Committee on Finance, State Budget and Control of Public Spending (National Assembly House, 13 Nikola Pasic Square, hall 2)

9.00 - sitting of the Committee on Constitutional and Legislative Issues (National Assembly House, 13 Nikola Pasic Square, hall 2)

9.30 - Voting Day on all the items on the agenda of the 25th Extraordinary Session of the National Assembly of the Republic of Serbia, 11th Legislature (National Assembly House, 13 Nikola Pasic Square)

9.45 - sitting of the Committee on the Judiciary, Public Administration and Local Self-Government (National Assembly House, 13 Nikola Pasic Square, hall 3)

10.00 - 26th Extraordinary Session of the National Assembly of the Republic of Serbia, 11th Legislature (National Assembly House, 13 Nikola Pasic Square)

10.30 - press conference of MP Tatjana Macura (National Assembly House, 13 Nikola Pasic Square, Central Hall)

11.00 - sitting of the Defence and Internal Affairs Committee (National Assembly House, 13 Nikola Pasic Square, hall 2)

11.00 - press conference of MP Dr Aleksandra Jerkov (National Assembly House, 13 Nikola Pasic Square, Central Hall)

12.30 - press conference of MP Zoran Zivkovic (National Assembly House, 13 Nikola Pasic Square, Central Hall)

13.15 - press conference of MP Dr Sanda Raskovic Ivic (National Assembly House, 13 Nikola Pasic Square, Central Hall)

14.00 - sitting of the Agriculture, Forestry and Water Management Committee (National Assembly House, 13 Nikola Pasic Square, hall 2)

14.30 - press conference of MP Bosko Obradovic and Marija Janjusevic (National Assembly House, 13 Nikola Pasic Square, Central Hall)

14.50 - press conference of MP Djordje Vukadinovic (National Assembly House, 13 Nikola Pasic Square, Central Hall)