National Assembly of the Republic of Serbia / Activities / Activity details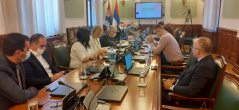 26 May 2021 The participants of the meeting
Wednesday, 26 May 2021
Committee on Kosovo-Metohija Meets with IRI Consultants
The Chairman and members of the Committee on Kosovo-Metohija met today at the National Assembly House with consultants of the International Republican Institute (IRI) who presented the results of the research "Potential generators of right-wing extremism during the COVID-19 pandemic".
---
IRI consultant Bojan Klacar said that the research showed that the citizens believe that the pandemic did not affect the level of democracy in Serbia, but it did bring into question family values and the question of the nation. The results show that citizens perceive the migrants as generators of right-wing extremism and trust in them has not increased compared to previous research. Still, the majority of respondents believe that the state managed the migrant crisis well.
Speaking of Kosovo-Metohija, when asked how many people are ready to go to war if it happened, 88% of respondents said they are not ready to participate in armed conflicts, 3% are ready to support but not participate in the war, while 6% is ready to support and participate in a possible war.
Some of the recommendations are to work on educating the population, approaching the most vulnerable groups, primarily young people, conducting public campaigns in the digital sphere, drafting a strategy on extremism and amending the Criminal Code.
---
---
monday, 6 december
10.00 - public hearing on the Presentation of the Draft Trade Strategy of the Republic of Serbia by 2025 (National Assembly Building, 14 Kralja Milana Street, Grand Hall)

12.00 - the National Assembly Speaker meets with the Egyptian Ambassador to Serbia (National Assembly House, 13 Nikola Pasic Square, diplomatic salon of Prince Pavle Karadjordjevic)

13.00 - continuation of the sitting of the Committee on the Economy, Regional Development, Trade, Tourism and Energy (National Assembly Building, 14 Kralja Milana Street, Grand Hall)

14.00 - sitting of the Committee on Constitutional and Legislative Issues (National Assembly House, 13 Nikola Pasic Square, hall 2)