National Assembly of the Republic of Serbia / Activities / Activity details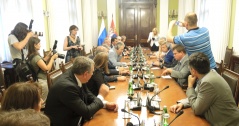 16 June 2015 The Chairman and members of the Committee on Kosovo-Metohija and the delegation of the State Duma of the Russian Federation
Tuesday, 16 June 2015
Chairman and Members of Committee on Kosovo-Metohija Meet with Russian State Duma Delegation
The Chairman and members of the Committee on Kosovo-Metohija met today, at the National Assembly House, with a delegation of the International Affairs Committee of the State Duma of the Federal Assembly of the Russian Federation, headed by Committee Chairman Alexey Pushkov and currently in official visit to Belgrade.
---
Committee Chairman Milovan Drecun told Pushkov that Serbia bases the status and position of Kosovo on Resolution 1244, and is ready to invest efforts to strengthen its capacities for the protection of its integrity in the United Nations in which it relies on the countries which have not endorsed the unilaterally declared independence of the southern Serbian province.

"Serbia considers Kosovo-Metohija an inalienable part of its territory and wishes to resolve the Kosovo-Metohija issue by peaceful means, compromise and dialogue", said Drecun.

He stressed that, in the Brussels normalisation process, Serbia has done all in its power to achieve a solution which would contribute to the stabilisation of the situation in Kosovo-Metohija. However, Drecun said Pristina's obstruction of the implementation of the most important part of the Brussels Agreement – the establishment of the Community of Serb municipalities, is alarming.

"Still, we hope that we will in the end reach an agreement on this issue as well, and will then be able to bend our efforts to other, also very important issues for the people living in Kosovo-Metohija such as the return of the internally displaced persons and the property issue", stressed Drecun. He hopes that a Special Court would be set up for the crimes committed by the Kosovo Liberation Army which would help achieve a satisfactory degree of justice for the Serbian victims in Kosovo-Metohija.

The Chairman of the International Affairs Committee of the State Duma of the Federal Assembly of the Russian Federation Alexey Pushkov underlined the vital importance of stability in the Balkans because instability in this area often reflects on the rest of the world. Speaking of the unilaterally declared independence of Kosovo-Metohija, Pushkov said that the current status of Kosovo-Metohija has made international law relative, rather than absolute.

He said that Serbia is to embark on a difficult period because it will have to strike a balance between EU accession and the fight to keep Kosovo-Metohija.

Both sides agreed that the red line that should under no circumstances be crossed is the possible UN membership for Kosovo-Metohija and Russia will offer full support, as it has before, to prevent such a development.


---
---
saturday, 19 september
No announcements for selected date