National Assembly of the Republic of Serbia / Activities / Activity details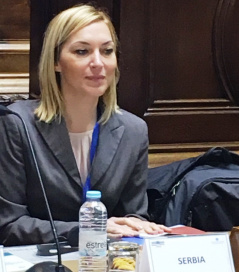 5 November 2018 Aleksandra Maletic and the meeting of the Bureau of the Parliamentary Assembly of the Mediterranean
Monday, 5 November 2018
Aleksandra Maletic at PAM Bureau Meeting
Aleksandra Maletic, member of the National Assembly's standing delegation to the Parliamentary Assembly of the Mediterranean (PAM), President of the 3rd Standing Committee and PAM Vice-President, is taking part in the 35th meeting of the PAM Bureau in Lisbon, Portugal.
---
The PAM Bureau will evaluate the work of the Assembly's three standing committees and plans for the coming period, discuss future cooperation with the Interparliamentary Assembly on Orthodoxy and the Union for the Mediterranean, and the plans for the coming 13th PAM plenary to be hosted by the National Assembly of the Republic of Serbia, 21-22 February 2019.
PAM President Pedro Roque, Secretary General Sergio Piazzi and the presidents of the 1st and 2nd standing committee Alia Bouran and Lhou Lmarbouh of Morocco thanked the Serbian Parliament for its support of the organization. The Serbian delegation is expected to continue to take active part in the PAM on all topics of importance for the Republic of Serbia and the Mediterranean region.


---
---
thursday, 9 april
13.00 - press conference of MPs Sasa Radulovic, Branka Stamenkovic and Vojin Biljic (National Assembly House, 13 Nikola Pasic Square, Central Hall)