National Assembly of the Republic of Serbia / Activities / Activity details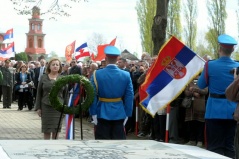 12 April 2012 National Assembly Speaker Prof. Dr Slavica Djukic Dejanovic
Thursday, 12 April 2012
67th Anniversary of Syrmian Front Breakthrough
The Speaker of the National Assembly of the Republic of Serbia, Prof. Dr Slavica Djukic Dejanovic, acting President of the Republic of Serbia, attended the celebration of the 67th anniversary of the Breakthrough of the Syrmian Front. Having laid a wreath at the Memorial in Adasevci near Sid, Speaker Slavica Djukic Dejanovic said that it is our responsibility to make sure this feat is not forgotten.
---
"That is why here and now, as always when we gather around and keep silent, because not all silence is oblivion just as not all memory is a threat, we admire their sacrifice and extend our gratitude for the freedom and independence they fought for", said Djukic Dejanovic. She stressed that Serbia remembers the Syrmian Front heroes as liberators who built their ideals into the foundations of Europe, without extreme political and ideological confrontations, rivalry and enmity among the states, of Europe which celebrates the Day of Victory over Fascism as its day. The Speaker said that the Syrmian Front breakthrough demonstrates that the Serbian people have the strength to break through all kinds of trouble.
"Through the centuries Serbia was able to determine its place on the international scene in both wartime and peace, and today it chooses a road to walk down clearly, with a sure step, decisively, a road of true values, social justice.
Historical lessons are precious and historical sacrifice is built into every inch of this country which is why it is the duty of the new generations to use the gift of life in freedom-loving Serbia for the good of their country", said Djukic Dejanovic. She stressed that victory over fascism which received the final blow in the Syrmian fields, signified the end to the attempt to turn the world into chaos and hopelessness and resulted in the UN Charter.
Speaker Slavica Djukic Dejanovic said that Serbia and its institutions stand united in their intention to, despite the difficulties, build strong relations with all the countries of the region and the world, dedicated to peace, but also aware that modern risks and threats know no boundaries.

---
---
wednesday, 4 october
9.00 - sitting of the Committee on Finance, State Budget and Control of Public Spending (National Assembly House, 13 Nikola Pasic Square, hall 2)

10.00 - the National Assembly Speaker meets with the Chinese Ambassador to Serbia (National Assembly House, 13 Nikola Pasic Square, hall 1)

12.00 - sitting of the Culture and Information Committee (National Assembly House, 13 Nikola Pasic Square, hall 4)