National Assembly of the Republic of Serbia / Activities / Activity details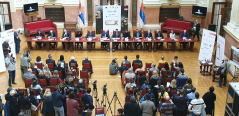 7 March 2019 16th Belgrade Dance Festival press conference
Thursday, 7 March 2019
16th Belgrade Dance Festival
Speaking at the 16th Belgrade Dance Festival press conference, National Assembly Deputy Speaker Veroljub Arsic said that this is the fifth year running that the National Assembly has been lending its support to the annual event by hosting a conference.
---
Arsic said that this year's Belgrade Dance Festival with its slogan "Emotions" would encourage and deepen positive emotions in its viewers and demonstrate the need for positive emotions in the modern world.
Deputy Mayor Goran Vesic said that thanks to the Dance Festival Belgrade has become a cultural centre, gathering scores of theatrical artists. The event is also becoming decentralized, Vesic concluded, saying that this year audiences will also be able to enjoy performances in Novi Sad and Vrsac.
The Head of the EU Delegation to Serbia Sem Fabrizi stressed that the delegation has been supporting the event for seven years now, saying that during the Festival Serbia becomes the heart of creative life in Europe.
The ambassadors of Belgium Adam Koenraad, the Netherlands Henk van den Dool, France Frederic Mondoloni, Italy Carlo Lo Cascio, Germany Thomas Schieb, the US Kyle Scott, Canada Kati Csaba and Israel Alona Fisher-Kamm also spoke at the conference, as did the director of the sponsors, VIP, Dejan Turk.
Finally, Belgrade Dance Festival Director Aja Jung said that the 16th Belgrade Dance Festival, 22 March - 12 April, will be featuring 16 dance companies from 11 countries, performing 20 choreographed pieces and 25 solos and duets.

Click
here
to watch the press conference.
---
---
tuesday, 22 september
No announcements for selected date