National Assembly of the Republic of Serbia / Activities / Activity details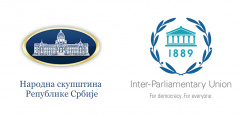 International Day of Democracy
Friday, 13 September 2019
15 September, International Day of Democracy
International Day of Democracy will be celebrated on Sunday, 15 September, established by the UN General Assembly in 2007, encouraging all countries to strengthen and consolidate democracy.
---
The UN General Assembly established International Day of Democracy at the initiative of the Inter-Parliamentary Union, the oldest international parliamentary organization gathering 179 member states and celebrating its 130th anniversary this year.

This year, the Inter-Parliamentary Union is celebrating International Day of Democracy under the slogan "For Democracy. For Everyone".

The National Assembly of the Republic of Serbia joins in the celebrations to raise awareness on democracy, its principles and tenets and the need to suppress discrimination in society.

By adopting the Universal Declaration on Democracy in September 1997 in Cairo, preceded by the Declaration on Criteria for Free and Fair Elections adopted in March 1994, the Inter-Parliamentary Union reaffirmed its dedication to peace and development.

---
---
wednesday, 19 january
10.00 - public hearing on Artificial intelligence and man in the new digital era, organised by the Committee on Education, Science, Technological Development and the Information Society (National Assembly House, 13 Nikola Pasic Square, Small Hall)