National Assembly of the Republic of Serbia / Activities / Activity details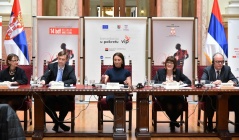 9 March 2017 The 14th Belgrade Dance Festival presented at the National Assembly
Thursday, 9 March 2017
14th Belgrade Dance Festival
Speaking at today's press conference on the 14th Belgrade Dance Festival at the National Assembly House, National Assembly Speaker and Culture and Information Committee Chairperson Maja Gojkovic said that this March and April Belgrade and Serbia will again be a noteworthy place on the world cultural map thanks to the prestigious event they can be proud of.
---
Gojkovic mentioned that for the third year running the National Assembly House hosts a conference on the Belgrade Dance Festival which speaks of the festival's significance and value, adding that it is how the Assembly shows its support.

"I am sure that this spring, thanks to a really impressive programme, the festival under the slogan "The Great Dance" would be the focus of the European and world dance scene and that Belgrade would again send an image of positive energy to the world", said Gojkovic.

Gojkovic said that the 14th Belgrade Dance Festival reminds us of the significance and beauty of dance and how important it is to promote ballet as part of our and global culture.

Aja Jung, Director of the Belgrade Dance Festival, Oscar Benedict, Deputy Head of the EU Delegation to Serbia, and the ambassadors of Canada, Switzerland, the Netherlands, Italy, Germany, Finland, Croatia, France and Israel spoke at the conference at the National Assembly House.

The 14th Belgrade Dance Festival will take place 24 March – 11 April.


---
---