National Assembly of the Republic of Serbia / Activities / Activity details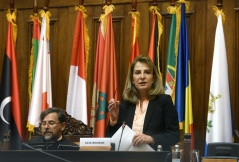 22 February 2019 Alia Buran, PAM President for 2019
Friday, 22 February 2019
13th Plenary Session of the Parliamentary Assembly of the Mediterranean Completed
The 13th Plenary Session of the Parliamentary Assembly of the Mediterranean (PAM) ended today with the election of Alia Buran of Jordan and Karim Darwish of Egypt PAM presidents for 2019 and 2020.
---
Newly-elected PAM President Alia Buran thanked her predecessors for their contribution to the development of the organization, hoping that her presidency, with the Egyptian colleague, would be fruitful and harmonious. In her first address to the members of PAM she said that the organization is a unique forum where different voices from the region can have their say.

"Hearing another's opinion and recommendations is very useful for addressing the problems we are faced with. I see our harmony and dedication to build on the positive and bridge gaps to come to a solution" said Buran.
She reminded the PAM members that the forum is supported by a strong network of organizations such as WTO and UN, hoping to join the PAM members' efforts to resolve problems.
The PAM also appointed new members of the Bureau, presented the activities for 2019 and Secretary General Sergio Piazzi submitted a financial report.
Finally, Secretary General Sergio Piazzi and President of the 3rd Standing Committee Aleksandra Maletic, who was also one of the recipients, presented the 2018 PAM Laureate Awards.

In the course of the two-day PAM session, the attending parliamentarians from 28 countries discussed combating terrorism in the Mediterranean region, political and security development, post-COP 24 climate change, legislation and support for small and medium-sized enterprises, PAM's role in the implementation of the Global Compact for Migration and human rights, on which the participants submitted reports and adopted resolutions.
The PAM administration, Bureau members and delegations of the participant countries praised the National Assembly as an exceptional host and thanked it for the marvellous organisation of the 13th Plenary Session.


---
---
| M | T | W | T | F | S | S |
| --- | --- | --- | --- | --- | --- | --- |
| 26 | 27 | 28 | 29 | 30 | 31 | 1 |
| 2 | 3 | 4 | 5 | 6 | 7 | 8 |
| 9 | 10 | 11 | 12 | 13 | 14 | 15 |
| 16 | 17 | 18 | 19 | 20 | 21 | 22 |
| 23 | 24 | 25 | 26 | 27 | 28 | 29 |
| 30 | 31 | 1 | 2 | 3 | 4 | 5 |
wednesday, 4 august
No announcements for selected date