National Assembly of the Republic of Serbia / Activities / Activity details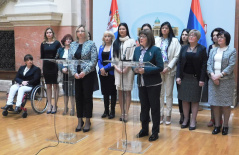 7 March 2018 "One on One with a Woman MP"
Wednesday, 7 March 2018
"One on One with a Woman MP"
To mark International Women's Day the Women's Parliamentary Network organized "One on One with a Woman MP" at the National Assembly House, an event aimed at fostering communication between the civil society and women MPs, to allow women to voice their ideas and suggestions in a direct one-on-one meeting with women representatives.
---
National Assembly Speaker Maja Gojkovic said that the Women's Parliamentary Network is an excellent example of best practice in the region which has become a must topic of conversation in meetings with international guests.

"We have become more visible and a topic of conversation in the media and political communication, women's rights and equality have become an unavoidable issue in political campaigns both at the local and national level", said Gojkovic, stressing that what comes next is investing a lot more effort into boosting the political involvement of women at the local level.

"The task we need to tackle next is making sure that women receive equal pay for the same job as men do. I am pleased to say that our country has no such problem in the public sector, which is not the case in the private sector", said Gojkovic.

Speaking of a new gender equality law, Gojkovic said that it should be drafted into a bill and submitted into regular Assembly procedure, be modern and European, and, most importantly, applicable state-wide.

Women's Parliamentary Network coordinator Tatjana Macura said that meetings like this one are an ideal opportunity to launch new initiatives and find support for the ongoing ones.

"I hope this comes to fruition because as much as it is up to us to assist you, it is up to you to persuade us to do so", said Macura.


---
---
wednesday, 20 march
9.30 - National Assembly Deputy Speaker Arsic meets with delegation of Polish Parliamentary Group for Cooperation with the Western Balkans (National Assembly House, 13 Nikola Pasic Square, hall 1)

10.00 - Second Sitting of the First Regular Session of the National Assembly of the Republic of Serbia in 2019 (National Assembly House, 13 Nikola Pasic Square)

10.30 - the members of the PFG with Poland meet with delegation of Polish Parliamentary Group for Cooperation with the Western Balkans (National Assembly House, 13 Nikola Pasic Square, hall 1)

12.00 - National Assembly Deputy Speaker Marinkovic meets with delegation of the Czech Parliamentary Committee on Science, Education, Culture, Youth and Sport (National Assembly House, 13 Nikola Pasic Square, hall 2)