National Assembly of the Republic of Serbia / Activities / Activity details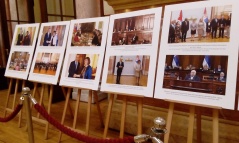 13-20 November 2017 Third Parliamentary Week
Friday, 10 November 2017
Week of Parliamentarism, Grand Opening
The third "Week of Parliamentarism" (Parliamentary Week) will be opened on Monday, 13 November, by an exhibition of photos of the most important events at the National Assembly in the last few years entitled "Guests, Friends and Memories", as well as the exhibition "Over a Century of the National Assembly House" which will remain opened to the public as a permanent exhibition.
---
The "Week of Parliamentarism", 13-20 November, will be opened by National Assembly Deputy Speaker Prof. Dr Vladimir Marinkovic.
More than 100 partner organizations and 5000 citizens from all over Serbia took part in the last two Parliamentary Weeks. The objective of Parliamentary Week is the affirmation of the role and importance of the National Assembly in the society, support of democratic dialogue and public outreach intended to get the people more involved in important social processes.
Encouraged by the results of previous Parliamentary Weeks we are determined to persevere in the intention to make the National Assembly more accessible to the public.


---
---
friday, 3 february
11.00 - continuation of the Third Special Sitting of the National Assembly of the Republic of Serbia, 13th Legislature (National Assembly House, 13 Nikola Pasic Square)

12.00 - press conference of the MPs of the People's Party Parliamentary Group (National Assembly House, 13 Nikola Pasic Square, Central Hall)

14.00 - sitting of the Committee on Constitutional and Legislative Issues (National Assembly House, 13 Nikola Pasic Square, hall 2)

15.30 - press conference of MP Dragan Nikolic (National Assembly House, 13 Nikola Pasic Square, Central Hall)