National Assembly of the Republic of Serbia / Activities / Activity details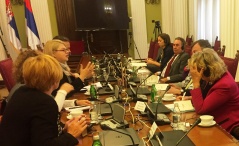 3 October 2017 The members of the Serbian Parliamentary Energy Policy Forum and the UK Parliamentary delegation
Tuesday, 3 October 2017
Serbian Parliamentary Energy Policy Forum with UK Parliamentary Delegation
The Chairperson of the Serbian Parliamentary Energy Policy Forum Dr Aleksandra Tomic briefed the UK Parliamentary delegation on the results the Forum had achieved since it was set up in 2015 to date.
---
She said that in this, the 11th legislature, the Serbian Parliamentary Energy Policy Forum comprises 32 MPs and about 100 other members coming from international organizations, state institutions, universities, the economy, civil society organizations and the media. She said that the Forum works very closely with the National Convention on the EU on the positions on negotiation chapters 15 and 21 which concern energy policy. The Parliamentary Forum's results can also be seen in the amendments submitted to the Law on Mining passed two years ago. The Forum organizes meetings with experts on renewable energy sources and consults on all energy-related issues, said Tomic.
"The experience shared by our colleagues from the European Parliament and European energy forums is invaluable", said Tomic.
She added that the Forum's most complex activity concerned the deliberations on the Republic of Serbia Energy Development Strategy by 2025 with projections until 2030 conducted in five simultaneous panels with more than 100 participants from all energy fields.
The officials also spoke about electrical power. Serbia has achieved progress in the field - distribution and production were separated and transmission losses have been reduced.
"The Republic of Serbia has an action plan for renewable energy sources the end result of which would be to have 27% of the electrical energy spent in the country come from renewable sources", said Tomic.
Tomic said that by setting up the Ministry of Environmental Protection Serbia has shown that it is taking climate change seriously.
John Whittingdale, member the House of Commons heading the UK delegation, said that no government in the world can stay long in power if it ignores the issue of renewable energy sources. He also added that for the use of UN organizations' funds intended for combating climate change it is essential to have qualified experts to prepare suitable projects.
The officials agreed that renewable energy sources and environmental protection are two of the most important issues in the world today.


---
---
monday, 16 may
No announcements for selected date