National Assembly of the Republic of Serbia / Activities / Activity details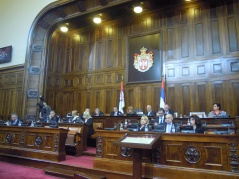 25 October 2012 Parliamentary Questions in October
Thursday, 25 October 2012
Parliamentary Questions in October
On 25 October, in line with article 205, paragraph 1, of the National Assembly Rules of Procedure, the MPs posed various questions to the Government of the Republic of Serbia from 4:25 to 7:25 pm.


---
MPs Riza Halimi, Nikola Tulimirovic, Emir Elfic, Dragana Mijatov, Zika Gojkovic, Olena Papuga, Arpad Fremond, Ljubica Milosevic, Bojan Djuric, Ana Novkovic, Slobodan Samardzic, Zoran Radovanovic, Dusan Milisavljevic and Mujo Mukovic posed the parliamentary questions.
Aleksandar Vucic, First Deputy Prime Minister responsible for defence, security and the fight against corruption and crime and Minister of Defence, Suzana Grubjesic, Deputy Prime Minister for European Integration, Mladjan Dinkic, Minister of Finance and Economy, and Slavica Djukic Dejanovic, Minister of Health, responded to the MPs' questions.
National Assembly Deputy Speaker Vesna Kovac congratulated the holiday of Eid Ul-Adha (Kurban Bayram) to all Muslim believers. At the beginning, she also greeted the students of the Belgrade Faculty of Political Sciences, who observed the work of the National Assembly from the gallery of the Grand Hall.
---
---
tuesday, 7 december
9.00 - sitting of the Committee on Finance, State Budget and Control of Public Spending (National Assembly House, 13 Nikola Pasic Square, hall 3)

9.00 - sitting of the Committee on the Judiciary, Public Administration and Local Self-Government (National Assembly House, 13 Nikola Pasic Square, hall 2)

9.00 - 52nd meeting of the National Assembly Collegium (National Assembly House, 13 Nikola Pasic Square, hall 1)

10.00 - 11th Sitting of the Second Regular Session of the National Assembly of the Republic of Serbia in 2021 (National Assembly House, 13 Nikola Pasic Square)

11.00 - National Assembly Deputy Speaker Stefan Krkobabic meets with a delegation led by the Head of the Georgian Royal House H.R.H. Prince Davit Bagration Muhranbatoni (National Assembly House, 13 Nikola Pasic Square, library)

11.00 - the Head of the National Assembly's standing delegation to NATO PA meets with the Ukrainian Ambassador to Serbia (National Assembly House, 13 Nikola Pasic Square, hall 2)

11.45 - press conference of National Assembly Deputy Speaker Stefan Krkobabic and H.R.H. Prince Davit Bagration Muhranbatoni (National Assembly House, 13 Nikola Pasic Square, Central Hall)

12.00 - press conference of MP Prof Dr Jahja Fehratovic (National Assembly House, 13 Nikola Pasic Square, Central Hall)

12.30 - sitting of the Foreign Affairs Committee (National Assembly House, 13 Nikola Pasic Square, hall 2)

13.00 - sitting of the Culture and Information Committee (National Assembly House, 13 Nikola Pasic Square, hall 3)

15.00 - National Assembly Speaker Ivica Dacic meets the Ambassador of the Kingdom of Bahrain (National Assembly House, 13 Nikola Pasic Square, diplomatic salon of Prince Pavle Karadjordjevic)