National Assembly of the Republic of Serbia / Activities / Activity details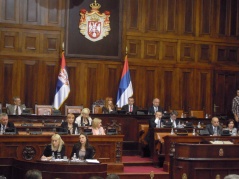 27 June 2013 Parliamentary Questions in June
Thursday, 27 June 2013
Parliamentary Questions in June
On 27 June 2013, in line with article 205, paragraph 1, of the National Assembly Rules of Procedure, the MPs posed various questions to the Government of the Republic of Serbia, from 4.10 to 7.15 pm.
---
MPs Zaharije Trnavcevic, Olena Papuga, Mirko Cikiriz, Petar Petrovic, Cedomir Jovanovic, Branislav Mitrovic, Dr Slobodan Samardzic, Vesna Jovicki, Borislav Stefanovic, Veroljub Arsic, Bojan Djuric, Miletic Mihajlovic, Dr Miodrag Stojkovic, Miljenko Dereta and Djordje Milicevic posed the parliamentary questions.

Ivica Dacic, Prime Minister of the Republic of Serbia and Minister of Interior, Prof. Dr Zorana Mihajlovic, Minister of Energy, Development and Environmental Protection, Prof. Dr Milan Bacevic, Minister of Natural Resources, Mining and Spatial Planning, Prof. Dr Zarko Obradovic, Minister of Education, Science and Technological Development, Velimir Ilic, Minister of Construction and Urbanism, and Verica Kalanovic, Minister of Regional Development and Local Self-Government, responded to the MPs' questions.

---
---
monday, 29 november
9.00 - sitting of the Committee on Constitutional and Legislative Issues (National Assembly House, 13 Nikola Pasic Square, hall 2)

11.00 - sitting of the Committee on Constitutional and Legislative Issues (National Assembly House, 13 Nikola Pasic Square, hall 2)