National Assembly of the Republic of Serbia / Activities / Activity details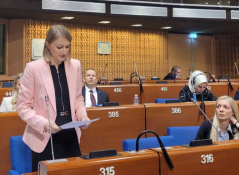 24 January 2023 PACE delegation members take part in the debate on the recent tensions between Belgrade and Pristina
Thursday, 26 January 2023
PACE Delegation Members at Debate on Recent Tensions between Belgrade and Pristina
On Wednesday, 25 January 2023, the Parliamentary Assembly of the Council of Europe (PACE) held a debate on the recent tensions between Belgrade and Pristina.
---
Biljana Pantic Pilja, the Head of the delegation, pointed out that the rights of national minorities, especially Serbs, are under constant threat in Kosovo-Metohija.
She recalled the recent attacks on Serbs in Kosovo-Metohija: the wounding of two boys from Strpce on Christmas Day, the beating of a young man on Christmas, as well as the recent beating and wounding of Serbs in Kosovo-Metohija. She stressed that Serbia is committed to continuing the dialogue, but t Pristina must first implement the signed agreements, form the Community of Serb Municipalities and prevent ethnically motivated attacks. At the end of her address, she reminded everybody of the often repeated position of the majority in the Parliamentary Assembly of the Council of Europe, that respecting territorial integrity and sovereignty is a prerequisite for peace, and asked if this principle is also applicable to Serbia.
Delegation member Dubravka Filipovski pointed out that, ten years after the signing of the Brussels Agreement, the position of Serbs in Kosovo-Metohija has drastically worsened because their safety and survival are constantly threatened. In the last two years, 282 ethnically motivated attacks on Serbs were recorded, Filipovski stressed.
In the course of the debate on the tensions between Belgrade and Pristina, delegation member Elvira Kovacs stressed that any solution must be based on compromise, with full respect for Belgrade's views and interests. "Unfortunately, we are witnessing that the current Pristina leadership continues to intentionally and systematically cause tensions, creating an atmosphere of mistrust with its unilateral moves. A wider condemnation of these actions and incidents by the international community is needed, with a proper assessment of the causes that led to the current situation," Kovacs concluded.
The Parliamentary Assembly continues the Winter Session in Strasbourg, 23 – 27 January 2023.
---
---
| M | T | W | T | F | S | S |
| --- | --- | --- | --- | --- | --- | --- |
| 27 | 28 | 29 | 30 | 1 | 2 | 3 |
| 4 | 5 | 6 | 7 | 8 | 9 | 10 |
| 11 | 12 | 13 | 14 | 15 | 16 | 17 |
| 18 | 19 | 20 | 21 | 22 | 23 | 24 |
| 25 | 26 | 27 | 28 | 29 | 30 | 31 |
saturday, 2 december
No announcements for selected date