National Assembly of the Republic of Serbia / Activities / Activity details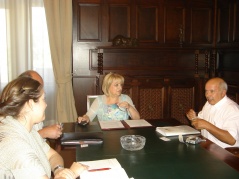 National Assembly Speaker Prof. Dr Slavica Djukic-Dejanovic receives Bunjevac National Minority Council delegation
Tuesday, 12 July 2011
National Assembly Speaker Receives Bunjevac National Minority Council Delegation
The Speaker of the National Assembly of the Republic of Serbia Prof. Dr Slavica Djukic-Dejanovic received the President of the Bunjevac National Minority Council Branko Pokornic and Mirko Bojic, members of the Bunjevac National Minority Council.
---
Pokornic and Bojic informed the Speaker on the position of the Bunjevac national minority, as well as the activities undertaken by the National Council to preserve the identity of the autochthonous people. Thanking for the reception, they stressed that the Bunjevac people have their only fatherland in Serbia and that the position of the Bunjevac national community is more difficult than the position of the others who enjoy additional support of their mother states. They also reminded that the standardisation of the Bunjevac language is of key importance for the preservation of the people's identity which is a process that started in 2008 and is expected to be finished in 2013.

Slavica Djukic-Dejanovic said that she truly appreciates the traditional historic role of the Bunjevac people, a people of rich culture which is a value in itself that Serbia will always support. The Speaker stated that the National Assembly controls the implementation of the Law on Protection of Rights and Freedoms of National Minorities and the Law on National Minority Councils, and that the Committee on Interethnic Relations plays an important role in it which will be even more significant in the upcoming period.

The Bunjevac people are an autochthonous Slavic people. Today they mostly inhabit the area of northern Serbia – Vojvodina and southern Hungary, more specifically, the area between Baja in Hungary, Sombor and Subotica in Serbia. The Bunjevac people are a Slavic people who, together with the Serbs, defended the borders from the Turkish onslaught onto the north of Europe. They played a key role after the fall of the Austro-Hungarian Empire in Vojvodina's joining the Kingdom of Serbia in 1918.

The Bunjevac people have been the most exposed to assimilation in their history, and the largest assimilation happened under the communist rule in 1945 when they were joined to the Croatian corps by decree. The Bunjevac people managed to defend themselves from the constant annexation which continues to this day thanks to their language, culture and tradition.

The constituting session of the Bunjevac National Minority Council was held on 14 June 2010 in Subotica. By the Ministry of Human and Minority Rights of the Republic of Serbia document No. 290-212-00-10/2010-06 of 26 July 2010 Bunjevac National Minority Council was entered into the national council register.

---
---
monday, 6 december
10.00 - public hearing on the Presentation of the Draft Trade Strategy of the Republic of Serbia by 2025 (National Assembly Building, 14 Kralja Milana Street, Grand Hall)

12.00 - the National Assembly Speaker meets with the Egyptian Ambassador to Serbia (National Assembly House, 13 Nikola Pasic Square, diplomatic salon of Prince Pavle Karadjordjevic)

13.00 - continuation of the sitting of the Committee on the Economy, Regional Development, Trade, Tourism and Energy (National Assembly Building, 14 Kralja Milana Street, Grand Hall)

14.00 - sitting of the Committee on Constitutional and Legislative Issues (National Assembly House, 13 Nikola Pasic Square, hall 2)