National Assembly of the Republic of Serbia / Activities / Activity details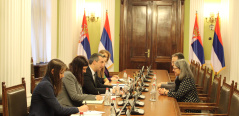 28 November 2022 The National Assembly Speaker in meeting with the Portuguese Ambassador to Serbia
Monday, 28 November 2022
National Assembly Speaker Meets with Portuguese Ambassador
The Speaker of the National Assembly of the Republic of Serbia Dr Vladimir Orlic met today with the Ambassador of the Republic of Portugal to the Republic of Serbia, H.E. Maria Virginia Mendes da Silva Pina, to discuss the further improvement of the already good and friendly bilateral relations.
---
The officials expressed satisfaction with the celebration of 140 years of diplomatic relations between the two countries, as well as the belief that political dialogue and the dynamics of bilateral visits would intensify.
In the course of the open conversation, they expressed mutual readiness to further deepen cooperation between Serbia and Portugal in all areas of common interest, primarily through the two parliaments and the work of the Parliamentary Friendship Group with the Republic of Portugal, which has been set up, as it traditionally is, in the current, XIII legislature, of the National Assembly of the Republic of Serbia as well. "This week, for the first time, a Parliamentary Friendship Group with the Republic of Serbia will be formed in the Portuguese Parliament, which will be an excellent channel of communication with fellow MPs from Serbia," said Ambassador Virginia Pina.
The National Assembly Speaker thanked the Republic of Portugal for the active and continuous support it provides to Serbia on the road to European integration and reported on the situation in the dialogue between Belgrade and Pristina. "The Serbian people do not want to put up with the terror they have been exposed to for decades and insist on principle that what was agreed upon be implemented and that finally, after ten years of waiting, the Community of Serb Municipalities be formed. Pristina responds to all of this with even more pressure, physical attacks and threats, even claims that it has no intention of ever setting up the Community of Serb Municipalities," said Dr Orlic, adding that "while Albin Kurti rejects European proposals, official Belgrade, led by President Aleksandar Vucic, remains the protector of dialogue and peace, as was clearly stated by Josep Borrell". The Portuguese Ambassador praised Belgrade's commitment to the dialogue with Pristina, expressing an expectation that a solution that has to be acceptable to the Serbian side, would be reached.
In the course of the meeting, the officials opined that there is room to improve cooperation in the field of environmental protection, agriculture, IT sector and energy, and expressed readiness for joint work and an exchange of experiences.
---
Photo gallery
---
---
wednesday, 1 february
8.00 - the National Assembly Speaker meets with the High Representative for Bosnia and Herzegovina (National Assembly House, 13 Nikola Pasic Square, hall 1)

12.00 - Seventh Regular Meeting of the Collegium of the National Assembly, 13th Legislature (National Assembly House, 13 Nikola Pasic Square, hall 1)