National Assembly of the Republic of Serbia / Activities / Activity details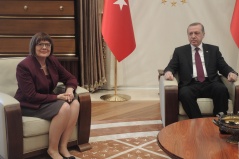 13 April 2015 National Assembly Speaker Maja Gojkovic and Turkish President Recep Tayyip Erdoğan
Monday, 13 April 2015
National Assembly Speaker Maja Gojkovic in Official Visit to Turkey
National Assembly Speaker Maja Gojkovic, currently in official visit to Turkey, met with the Speaker of the Turkish Grand National Assembly Cemil Çiçek and Turkish President Recep Tayyip Erdoğan. The officials stressed that the two countries share the same interest – to expand cooperation in various spheres, especially in the sphere of economy.
---
Gojkovic and Erdoğan agreed that there is room to improve economic cooperation both in the field of trade and infrastructure.

Gojkovic said that her visit to Turkey testifies to the wish to improve relations and is a step toward intensifying political and economic cooperation, as well as cooperation at the parliamentary level.

"Frequent high-level meetings will improve our cooperation, especially in the field of economy. Our meetings and contacts are important for the improvement of regional relations", said Gojkovic.

The National Assembly Speaker said that there is room to improve economic relations and that Serbia would like Turkey to invest in the country, especially in view of the reform laws the Serbian Assembly had passed so as to improve investment conditions. As good examples of economic cooperation Gojkovic mentioned the opening of the new "Jeanci" factory in Krupanj and investment into the Cacak Bank, which she said was a sign that other investments would follow.

Erdoğan said that Turkey was interested in investing into Serbia and that he would discuss the investment options with Turkish businessmen.

"We will work on developing cooperation with Serbia in all areas", said Erdoğan, adding that there is room to increase the volume of trade, and that buying the Cacak Bank is a significant precondition for it.

Erdoğan expressed readiness to realise the previously arranged infrastructural projects, and the region's energy security was also one of the topics of the meeting.

Gojkovic and the Speaker of the Turkish Grand National Assembly Cemil Çiçek signed a Protocol of Cooperation between the two parliaments, which would enable the strengthening of interparliamentary dialogue and exchange of information and views on issues of bilateral, regional and international importance. Gojkovic said that the Protocol would stimulate cooperation between the two assemblies' friendship groups and working bodies in the exchange of experiences in Euro-integration, economy, education and other areas.

Çiçek said that the two parliament speakers would do all in their power to deepen the relations between the two countries, and the signing of the Protocol of Cooperation proves it.

Çiçek stressed that stability in the region, in which Serbia plays the key role, is very important for Turkey. "We consider our bilateral relations very important, their improvement will contribute to better relations in the region" said Çiçek.

The delegation of the Serbian National Assembly also includes the Head of the Parliamentary Friendship Group with Turkey Zoran Babic.


---
---
wednesday, 8 july
13.00 - press conference of MPs Sasa Radulovic, Branka Stamenkovic and Vojin Biljic (National Assembly House, 13 Nikola Pasic Square, Central Hall)

13.45 - press conference of MP Prof. Dr Miladin Sevarlic (National Assembly House, 13 Nikola Pasic Square, Central Hall)

14.20 - press conference of MP Djordje Vukadinovic (National Assembly House, 13 Nikola Pasic Square, Central Hall)