National Assembly of the Republic of Serbia / Activities / Activity details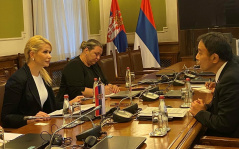 2 September 2022 The National Assembly Deputy Speaker and the Japanese Ambassador
Friday, 2 September 2022
National Assembly Deputy Speaker Sandra Bozic Meets with Japanese Ambassador to Serbia
National Assembly Deputy Speaker Sandra Bozic met with the Ambassador of Japan to the Republic of Serbia, H.E. Takahiko Katsumata to discuss the traditionally good and friendly relations between the two countries.
---
The officials opined that there is mutual interest in intensifying interparliamentary cooperation, as well as cooperation in the fields of economy and culture.
Stressing that economic relations are at a high level, Bozic expressed satisfaction with the fact that a large number of Japanese companies are present in Serbia. She thanked Japan for the considerable donations it sent to Serbia, especially the help that arrived during the coronavirus pandemic.
Bozic took the opportunity to convey the Serbian people's regret over the news of the assassination of former Japanese Prime Minister Shinzo Abe.
Sandra Bozic also informed the Ambassador about the situation in Kosovo-Metohija and the dialogue between Belgrade and Pristina, pointing out that Serbia is faced with the irresponsible moves of the Provisional Institutions in Pristina and that our leadership respects international agreements and the UN Security Council Resolution 1244.
Japanese Ambassador Takahiko Katsumata agreed that the relations between the two countries are at an admirable level and that there is room to intensify interparliamentary cooperation. He said that Serbia is a stable country suitable for new investments thanks to its geostrategic position and added that Serbia has a highly qualified workforce. He went on to say that Japan fully supports Serbia's European path. Katsumata was interested in the formation of the Parliamentary Friendship Group with Japan in the National Assembly adding that the Parliamentary Friendship Group with Serbia in the Japanese Parliament is long-lasting and stable.
He also pointed out that this year marks the 140th anniversary of the establishment of diplomatic relations between the two countries.
At the end of the meeting, the National Assembly Deputy Speaker and the Japanese Ambassador opined that there is room to intensify interparliamentary cooperation, which is very important as parliamentarians are directly elected representatives of the citizens.
---
---
sunday, 10 december
No announcements for selected date