National Assembly of the Republic of Serbia / Activities / Activity details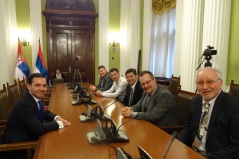 13 April 2016 Deputy Speaker Marinkovic and the PEUS delegation
Wednesday, 13 April 2016
National Assembly Deputy Speaker Prof. Dr Vladimir Marinkovic Receives PEUS delegation
A delegation of the Union of Protestant Evangelical Churches and Organisations of Serbia (PEUS) visited the National Assembly today and spoke with National Assembly Deputy Speaker Prof. Dr Vladimir Marinkovic.
---
Welcoming the delegation, Deputy Speaker Marinkovic explained what the National Assembly can do for the churches, religious communities and their members in the domain of legal regulation and the role of the state in ensuring equal rights for all, with full respect for the religious, national and minority rights of the citizens of Serbia.

He stressed that the National Assembly is dedicated to making sure that churches and religious communities in Serbia have the same rights, that their members follow their faith freely, yet as someone who acknowledges a clear separation between church and state, believes that this equality is enough to make sure that everybody can promote their beliefs.

"One of our country's biggest assets is the fact that its citizens belong to many different denominations. We respect them all and this wealth of differences is just one more quality for bringing people together and the development of tolerance, which will reflect onto our entire region", concluded Marinkovic.

Speaking of the legislative framework relating to the operation of churches and religious communities, Marinkovic stressed that there is a discrepancy between its provisions and the times we live in, adding that he is in favour of establishing a dialogue between churches and religious communities and all relevant state bodies in order to improve it. Marinkovic emphasised the need to educate young people for religious tolerance which will make it easier for them to accept social differences.

Samuil Petrovski, President of PEUS said that the Union has been around for more than 20 years and gathers all churches of protestant and reformist heritage working on social programmes. PEUS is member of the European Protestant Union, as well as the World Protestant Union which comprises churches and organisations from more than 150 countries in the world, added Petrovski stressing that the Union is trying to be a platform for the united voice of churches. He presented the innovations in the Union's work, and the members of the delegation presented the work of their respective churches.

The PEUS 10-member delegation comprised representatives of the Protestant, Baptist, Christian, Roma and Nexus church from Novi Sad, Nis and Subotica.


---
---