National Assembly of the Republic of Serbia / Activities / Activity details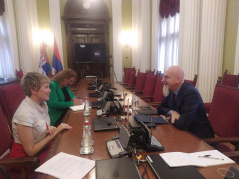 31 August 2022 National Assembly Deputy Speaker Elvira Kovacs in meeting with Italian Ambassador to Serbia Luca Gori
Wednesday, 31 August 2022
National Assembly Deputy Speaker Elvira Kovacs Meets with Italian Ambassador to Serbia
National Assembly Deputy Speaker Elvira Kovacs met today with the Ambassador of the Republic of Italy to the Republic of Serbia, H.E. Luca Gori to discuss the further improvement of interparliamentary relations and Serbia's European integration prospects.
---
Elvira Kovacs said that the Serbian and Italian parliaments enjoy excellent cooperation, expressing her belief that it would be additionally strengthened by both parliaments' new legislatures. She added that there is room to intensify the two countries' parliamentarians' cooperation within international parliamentary organisations.
Elvira Kovacs thanked Italy for supporting Serbia's European integration, stressing that EU membership is our country's strategic goal.
Highlighting the traditional friendship between Serbia and Italy, Ambassador Gori said that Italy strongly and transparently supports Serbia on its European path, despite the fact that the mood for enlargement within the EU itself is not always positive. EU enlargement would contribute to the integration and stability of the West Balkan region, Gori opined.
The officials also discussed the situation in Kosovo-Metohija, agreeing that dialogue is vital for the normalisation of relations and that unilateral moves are not good.
---
---
friday, 22 september
9.00 - sitting of the Committee on Finance, State Budget and Control of Public Spending (National Assembly House, 13 Nikola Pasic Square, hall 3)

10.00 - the National Assembly Speaker meets with the Russian Ambassador to Serbia (National Assembly House, 13 Nikola Pasic Square, hall 1)

12.00 - the members of the Foreign Affairs Committee meets with the German Ambassador to Serbia (National Assembly House, 13 Nikola Pasic Square, hall 2)

14.00 - the Chairman of the Foreign Affairs Committee meet with attendees of the autumn school organised by the Belgrade Centre for Security Policy and the German Agency for Civic Education (National Assembly Building, 14 Kralja Milana Street, Blue Salon)