National Assembly of the Republic of Serbia / Activities / Activity details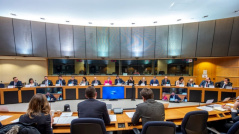 8 March 2023 National Assembly delegation in study visit to the European Parliament
Wednesday, 8 March 2023
National Assembly Delegation in Study Visit to European Parliament
National Assembly delegation consisting of 20 members of parliament in their first mandate in the National Assembly of the Republic of Serbia, headed by the Deputy Speaker of the National Assembly of the Republic of Serbia Elvira Kovacs, paid a study visit to the EU Parliament.
---
During the two-day study visit the members of the delegation had the opportunity to talk with the Vice-President of the European Parliament Michal Simecka, MEP Matjaz Nemec of the Social Democrat parliamentary group and Alessandra Moretti, head of the SAPC delegation on behalf of the EP.
The study visit was an opportunity for the MPs to familiarise themselves with the work of the EP and get to know the EP members more closely. Representatives of 13 parliamentary groups had the opportunity to address the hosts during the study visit. National Assembly Deputy Speaker Elvira Kovacs said that EU membership is Serbia's strategic commitment. She also thanked the EP for mediating the inter-party dialogue, adding that the pluralism of the current composition of the Serbian Parliament is the successful result of the dialogue. She also spoke about the implemented constitutional reforms, announcing changes to the laws regulating the media. She urged the members of the EP to open new clusters so as to give impetus to the negotiations. She expressed her belief that all of the above would affect the complete normalisation of the work of the Parliament. The members of the two parliaments also discussed the topics of Serbia's EU integration and the challenges on that path.
---
Photo gallery
---
---
friday, 22 september
9.00 - sitting of the Committee on Finance, State Budget and Control of Public Spending (National Assembly House, 13 Nikola Pasic Square, hall 3)

10.00 - the National Assembly Speaker meets with the Russian Ambassador to Serbia (National Assembly House, 13 Nikola Pasic Square, hall 1)

12.00 - the members of the Foreign Affairs Committee meets with the German Ambassador to Serbia (National Assembly House, 13 Nikola Pasic Square, hall 2)

14.00 - the Chairman of the Foreign Affairs Committee meet with attendees of the autumn school organised by the Belgrade Centre for Security Policy and the German Agency for Civic Education (National Assembly Building, 14 Kralja Milana Street, Blue Salon)