National Assembly of the Republic of Serbia / Activities / Activity details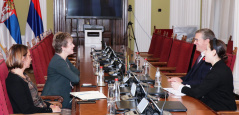 3 November 2022 Participants of the meeting
Thursday, 3 November 2022
Kovacs Meets with Representatives of UK Embassy in Serbia
National Assembly Deputy Speaker Elvira Kovacs met today with representatives of the UK Embassy in Belgrade – Head of the Political Department William Hopkinson and Second Secretary Celia Sommerstein, to discuss the National Assembly's work and continuation of cooperation.
---
Elvira Kovacs said that the current National Assembly legislature boasts a pluralism of political parties and significant representation of national minorities, pointing out that two National Assembly deputy speakers are members of national minorities.
Kovacs informed the guests of the National Assembly's upcoming legislative activities and the work of the European Integration Committee, of which she is the Chairperson.
She went on to say that, at its session tomorrow, the European Integration Committee will consider the European Commission's 2022 Progress Report on Serbia and ascertain conclusion proposals on the reviewed Report, after which, in line with the existing good practice, said conclusion proposals will be considered at a National Assembly session. She said that the session will be attended by the newly-elected Minister of European Integration, Tanja Miscevic, who, she agreed with the guests, is one of the biggest experts for European integration processes in the region.
In the course of the meeting, the representatives of the UK Embassy asked about the coming elections for national minority council members.
The meeting also touched on future cooperation between the National Assembly and the Westminster Foundation for Democracy on projects aimed at contributing to the strengthening of the operating capacities of the Parliament, its working bodies and parliamentarians.
---
---
friday, 3 february
11.00 - continuation of the Third Special Sitting of the National Assembly of the Republic of Serbia, 13th Legislature (National Assembly House, 13 Nikola Pasic Square)

12.00 - press conference of the MPs of the People's Party Parliamentary Group (National Assembly House, 13 Nikola Pasic Square, Central Hall)

14.00 - sitting of the Committee on Constitutional and Legislative Issues (National Assembly House, 13 Nikola Pasic Square, hall 2)

15.30 - press conference of MP Dragan Nikolic (National Assembly House, 13 Nikola Pasic Square, Central Hall)