National Assembly of the Republic of Serbia / Activities / Activity details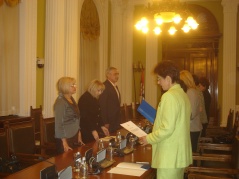 14 May 2012 The judges take the oath of office before National Assembly Speaker Prof. Dr Slavica Djukic Dejanovic
Monday, 14 May 2012
Judges Take Oath of Office
A number of judges took the oath of office before the Speaker of the National Assembly of the Republic of Serbia, Prof. Dr Slavica Djukic Dejanovic, acting President of the Republic of Serbia, in line with the Decision on the adoption of objections and the election of judges to permanent judicial office.
---
The Decision was adopted by the High Judicial Council in the process of reexamining the decisions of the first convocation of the High Judicial Council on the termination of judicial office at the sessions held between 23 March and 26 April 2012.
Judges Marija Jankovic Debeljak from Belgrade, Vesna Maricic from Novi Sad, Ljiljana Radmilo Maletin from Novi Sad, Vesna Ilic from Kragujevac, Dobrila Zdravkovic from Nis and Svetlana Kosanovic from Sombor took the oath.
"I believe that, by doing your judicial duty and by personal example, you will greatly contribute to the further improvement of the judiciary system in Serbia", said National Assembly Speaker Slavica Djukic Dejanovic.
The oath taking ceremony was attended by Mirjana Ivic, Vice President of the High Judicial Council and Veljko Odalovic, National Assembly Secretary General.

---
---