National Assembly of the Republic of Serbia / Activities / Activity details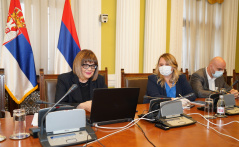 26 May 2020 National Assembly Speaker Maja Gojkovic speaks with the European Parliament's Standing Rapporteur on Serbia Vladimir Bilcik and the Chair of the EP Delegation for Relations with Serbia Tanja Fajon
Tuesday, 26 May 2020
Gojkovic Speaks with Tanja Fajon and Vladimir Bilcik
The Speaker of the National Assembly of the Republic of Serbia Maja Gojkovic spoke today, via video-link, with the European Parliament's Standing Rapporteur on Serbia Vladimir Bilcik and the Chair of the EP Delegation for Relations with Serbia Tanja Fajon. The Head of the EU Delegation to Serbia Sem Fabrizi also took part in the talk.
---
Gojkovic spoke with Bilcik and Fajon about the activities implemented to improve the conditions for the upcoming parliamentary elections and the fulfilment of the commitments adopted at the previous three rounds of Inter-Party Dialogue.
The Serbian Assembly Speaker said that all the agreements reached in the three rounds of dialogue have been fulfilled in the previous period and are being implemented, adding that the laws have been amended and the election process for members of the REM and Supervisory Board is completed, mentioning that after the meeting with the representatives of the political parties which announced their participation in the election, it was approved that, besides notaries public, the voters' signatures can be verified by municipal and city administrations.
Gojkovic said that the European Parliament, as well as the parliamentary assemblies of the Council of Europe, OSCE and the Mediterranean, have already been invited to monitor the electoral process and everybody wishing to follow the electoral process on the day of the elections is welcome. Gojkovic said that all the measures needed to ensure the health of the citizens during the electoral process and on the day of the elections will be implemented.
Gojkovic informed the European parliamentarians about the sessions of the National Assembly during the COVID-19 pandemic and the measures implemented to ensure that the Parliament meet and perform its duty in a safe manner.
The Chair of the EP Delegation for Relations with Serbia Tanja Fajon among other things said that it is essential to secure the integrity of the electoral process, which is equally important for the participants and the voters, to make sure they trust the election process, stressing also the importance of the credible reporting on the electoral process.


---
---
saturday, 10 june
No announcements for selected date