National Assembly of the Republic of Serbia / Activities / Activity details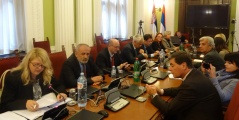 4 October 2016 First (Constituting) meeting of the Serbian Parliamentary Energy Policy Forum
Tuesday, 4 October 2016
First (Constituting) Meeting of the Serbian Parliamentary Energy Policy Forum
A group of MPs of similar educational and professional profiles and interests established the Serbian Parliamentary Energy Policy Forum today.
---
The MPs signed the Decision of Establishment, ascertained the rules of operation and again elected Dr Aleksandra Tomic Chairperson of the Serbian Parliamentary Energy Policy Forum.

In addition to Dr Aleksandra Tomic, the founding members of the Serbian Parliamentary Energy Policy Forum from the ranks of MPs are Veroljub Arsic, Dr Ivan Bauer, Dr Branislav Blazic, Dragomir Karic, Dragana Kostic, Prof. Dr Vladimir Marinkovic, Dr Aleksandar Martinovic, Veroljub Matic, Dr Vladimir Orlic, Snezana B. Petrovic, Snezana R. Petrovic, Marijan Risticevic and Goran Ciric, and the Forum will also have a considerable number of non-parliamentary members who will take part in its operation.

Parliamentary Forum Chairperson Dr Aleksandra Tomic said that the Forum will very soon address the biggest criticisms the Energy Community directed to Serbia, as well as discuss its participation in the Energy Community plenary to be held on 13 October in Sarajevo where the organisation itself is to be redefined to include parliamentarians in its future work. The establishment of national parliamentary delegations to the Energy Community underlines the fact that energy is an important matter at the EU level as well, and so the National Assembly will also be electing its own two-member and two-substitute member delegation, said Tomic.


---
---
monday, 11 december
10.00 - Deputy Chairperson of the Committee on Human and Minority Rights and Gender Equality Natasa Tasic Knezevic speaks at the conference Business and Human Rights (National Assembly House, 13 Nikola Pasic Square, Small Hall)

10.00 - the PFG with Israel meets with the representatives of the Israeli Embassy in Serbia (National Assembly House, 13 Nikola Pasic Square, library)

14.30 - press conference of MP Aleksandar Jerkovic (National Assembly House, 13 Nikola Pasic Square, Central Hall)