National Assembly of the Republic of Serbia / Activities / Activity details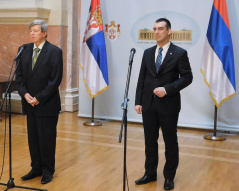 21 December 2017 The press conference of SAPC co-chairs Dr Vladimir Orlic and Eduard Kukan
Thursday, 21 December 2017
EU-Serbia Stabilisation and Association Parliamentary Committee Seventh Meeting Declaration and Recommendations Adopted
The delegations of the National Assembly and the European Parliament continued the seventh meeting of the European Union-Serbia Stabilisation and Association Parliamentary Committee (SAPC) on Thursday, 21 December, with a discussion on the state of play of the accession negotiations and EU-Serbia relations.
---
The officials continued to exchange views and opinions on the topics which dominated day one – independent judiciary and media freedom. They also focused on the funding of political parties and the different models used in the EU members states, as well as national minority rights, realization of the Chapter 23 action plan, especially in the part concerning anti-discrimination and strengthening the capacities of the Commissioner for the Protection of Equality. The parliamentarians also discussed defence and security, stance on Russia, stability in the Balkans as vital for stability in the EU, the migrant crisis and reliability of Serbia as a partner in suppressing irregular migration, operation of the National Assembly and parliamentary debate, financial consolidation and reducing the budget deficit, capital expenses and economic growth rate in the country, use of EU pre-accession funds, need to establish the Community of Serb Municipalities in Kosovo-Metohija, regional and rural development.
After the discussion the delegations adopted the
Declaration and Recommendations
of the seventh SAPC meeting, in which they welcomed bringing the total number of negotiations Chapters opened to 12 and called on Council and Commission to support opening of the technically prepared chapters and recalled that Serbia's progress under rule of law chapters 23 and 24 and in the process of normalisation of relations under chapter 35 remain essential for the overall pace of the negotiating process.
SAPC seventh meeting co-chair Eduard Kukan said that Serbia should use the coming Bulgarian, Austrian and Romanian presidency of the EU Council to accelerate its accession process since the enlargement policy would then be very much on the agenda.
Head of the National Assembly delegation Dr Vladimir Orlic said that the European Parliament and Serbia had once again affirmed their support for the reform processes and Serbia's European path. He was pleased that the SAPC seventh meeting was conducted in an open and friendly atmosphere where the parliamentarians exchanged opinions on all topics of interest fop Serbia's European integration.
The next, eight meeting of the European Union-Serbia Stabilisation and Association Parliamentary Committee will be held on 4-5 July 2018 in Strasbourg.
Click
here
to watch the press conference of the co-chairs of the SAPC seventh meeting.
---
Video (1)
Thursday, 21 December 2017 | Seventh meeting of the EU - Serbia Stabilisation and Association Parliamentary Committee 21 December 2017
---
---
thursday, 20 january
10.00 - sitting of the Health and Family Committee (National Assembly House, 13 Nikola Pasic Square, hall 2)

13.00 - the National Assembly Speaker meets with the Ambassador Extraordinary and Plenipotentiary of the Bolivarian Republic of Venezuela (National Assembly House, 13 Nikola Pasic Square, diplomatic salon of Prince Pavle)