National Assembly of the Republic of Serbia / Activities / Activity details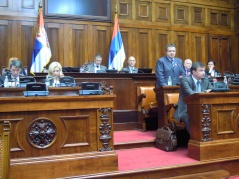 30 May 2013 Day to Respond to Parliamentary Questions on a Current Issue
Thursday, 30 May 2013
Day to Respond to Parliamentary Questions on a Current Issue
The National Assembly Speaker, MA Nebojsa Stefanovic, set Thursday, 30 May 2013, starting at 10 am, as a Day to respond to parliamentary questions regarding the current issue: Addressing the problem of the difficult economic and social situation in the country.
---
Deputy Prime Minister and Minister of Interior Ivica Dacic, Minister of Finance and Economy Mladjan Dinkic, Minister of Construction and Urbanism Velimir ilic, Minister of Agriculture, Forestry and Water Management Goran Knezevic, Minister of Education, Science and Technological Development Zarko Obradovic and Minister of Energy, Development and Environmental Protection Zorana Mihajlovic, responded to the MPs' questions.
MPs Borislav Stefanovic, Aleksandar Jugovic, Zoltan Pek, Djordje Stojsic, Dusan Petrovic, Dragan Markovic, Dubravka Filipovski, Milorad Mijatovic, Cedomir Jovanovic, Branislav Mitrovic, Dejan Mihajlov, Dordje Milicevic, Marija Obradovic, Zaharije Trnavcevic, Mirko Cikiriz, Vojislav Vujic, Vladimir Marinkovic and Bojan Djuric posed the parliamentary questions regarding the current issue.
Part of the sitting was observed from the gallery of the Grand Hall by the councillors of the Municipal Assembly of Zitiste and public institution employees, as well as a group of students of Arcadia University which were greeted by the MPs on the occasion.
---
---
monday, 6 december
10.00 - public hearing on the Presentation of the Draft Trade Strategy of the Republic of Serbia by 2025 (National Assembly Building, 14 Kralja Milana Street, Grand Hall)

12.00 - the National Assembly Speaker meets with the Egyptian Ambassador to Serbia (National Assembly House, 13 Nikola Pasic Square, diplomatic salon of Prince Pavle Karadjordjevic)

13.00 - continuation of the sitting of the Committee on the Economy, Regional Development, Trade, Tourism and Energy (National Assembly Building, 14 Kralja Milana Street, Grand Hall)

14.00 - sitting of the Committee on Constitutional and Legislative Issues (National Assembly House, 13 Nikola Pasic Square, hall 2)