National Assembly of the Republic of Serbia / Activities / Activity details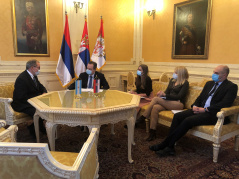 12 January 2021 National Assembly Speaker Ivica Dacic and Argentine Ambassador to Serbia Estanislao Zawels
Tuesday, 12 January 2021
Dacic Thanks Argentina for its Principled Support on Kosovo-Metohija Issue
The Speaker of the National Assembly of the Republic of Serbia Ivica Dacic received today in farewell visit the Ambassador of the Argentine Republic to the Republic of Serbia Estanislao Angel Zawels whose mandate is soon coming to an end.
---
The officials agreed that the bilateral relations between the two countries are traditionally good, that their development should continue and that the two countries are bound not only by friendship but also by common values and principles that are consistently respected, primarily the principles of sovereignty and territorial integrity. National Assembly Speaker Ivica Dacic once again thanked Argentina for its principled support of Serbia in international forums regarding the issue of Kosovo-Metohija.
The officials also agreed that, although the two countries are geographically distant, there is potential for cooperation in some areas such as agriculture, energy, science and education. In that context, it was agreed to intensify bilateral visits at all levels in the coming period.
They also discussed possibilities for strengthening parliamentary and agreed that, as soon as the conditions allow, to organize an exchange of visits between the parliaments of the two countries.
At the end of the meeting, Ambassador Zawels said that upon his return to Argentina, as a great friend of Serbia he would continue to promote Serbia and work on further strengthening the friendly ties between the two countries.
---
Photo gallery
---
---
saturday, 23 january
No announcements for selected date