National Assembly of the Republic of Serbia / Activities / Activity details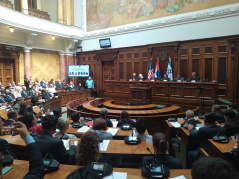 12 May 2022 Participant of the conference
Thursday, 12 May 2022
Conference on Serbian-American Relations: Energy Diversification Strategy
The National Assembly hosted the conference on Serbian-American Relations: Energy Diversification Strategy.
---
Opening the conference, National Assembly Speaker Ivica Dacic declared it very important that attention is focused on such important issues as energy supply and environmental protection, because they are at the very centre of both our two countries' inter-state relations and internal policies. He went on to say that in Serbia, we have been dealing with the energy source diversification for a long time as one of the state and economic priorities, and in that regard we are very active in all international forums. At the end of his address, the National Assembly Speaker emphasised the country's readiness to work together with our friends from the United States to diversify our energy supply even more intensively than before, adding that we would be very pleased to find any and every new solution, a solution that means even greater stability and independence of our energy system and a solution that would meet our growing needs and ensure the stability and independence of our energy system.
Thanking the participants of the conference, MP and one of the founders of the Serbian-American Friendship Congress Vladimir Marinkovic pointed out that this issue concerns not only the economy, but the geopolitical situation as well. He said that, in this area, Serbia intends to cooperate with its friends, that is the countries that are seriously dealing with this issue. He took the opportunity to point out that American companies operating in Serbia employ more than 25,000 people, that the cooperation between Serbia and America is very dynamic, and to reflect on the mutual visits of the two countries' high officials. "Serbia is ready to work with the United States, the European Union, as well as other countries, such as Israel, on energy diversification, common values concerning not only economic, but human freedoms and rights, democratic capacities, regional integration and fulfilment of initiatives, such as the Open Balkans, whose goal is to make our European future more certain and better," said Marinkovic. He thanked the participants once again, hoping that in the coming period we would see speedy and quality results concerning energy sustainability and diversification.
Deputy Assistant Secretary for Energy Diplomacy in the State Department's Bureau of Energy Resources Laura Lochman also spoke about the strategy of energy diversification in the world and in our country via video link, as well as the Israeli Ambassador to Serbia H.E. Yahel Vilan, US Ambassador to Serbia H.E. Christopher Hill and Deputy Prime Minister of the Republic of Serbia and Minister of Mining and Energy Prof. Dr Zorana Mihajlovic.
---
---
tuesday, 6 june
8.45 - the National Assembly Speaker meets with a delegation of the Polish Sejm Foreign Affairs Committee (National Assembly House, 13 Nikola Pasic Square, hall 1)

10.00 - the Chairman and members of the National Assembly Foreign Affairs Committee meet with the delegation of the Polish Sejm Foreign Affairs Committee (National Assembly House, 13 Nikola Pasic Square, hall 2)

10.00 - continuation of the Third Extraordinary Session of the National Assembly of the Republic of Serbia, 13th Legislature (National Assembly House, 13 Nikola Pasic Square)

11.10 - the Head and members of the PFG with Poland meet with the delegation of the Polish Sejm Foreign Affairs Committee (National Assembly House, 13 Nikola Pasic Square, hall 2)

12.10 - presentation of the stamp bearing the image of Nicolaus Copernicus for the delegation of the Polish Sejm Foreign Affairs Committee (National Assembly House, 13 Nikola Pasic Square, library)